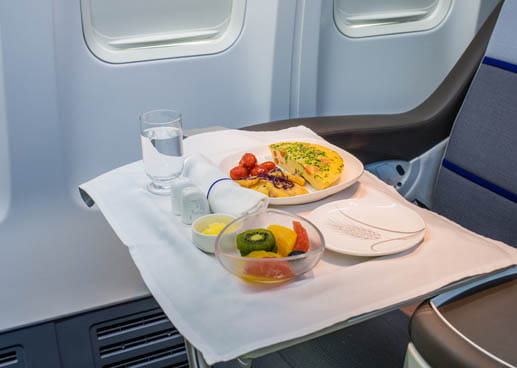 I was walking towards Times Square in New York City with a few colleagues to dine at an Italian restaurant. Someone in the group mentioned earlier, "If you are in New York, you must try the Italian food at Tony's." I was spending the week at NRF 2018: Retail's Big Show one of the largest retail conferences in the world. Along the way, my colleague and I were discussing the airline industry, and I mentioned a recent not-so-great experience with a Middle Eastern airline, while my colleague was highly appreciative of an Indian operator. For both of us — an Indian and an American — the expected service quality benchmarks were vastly different! My expectation from an airline was around providing the highest level of comfort, and failed to understand his amazement when he said: "In India, they serve everyone with a hot meal, even in coach!"
What hit me was his genuine amazement at the fact that a basic amenity (from my perspective) was being held in such high esteem by my colleague. Now here we were, strolling by one of the most-visited tourist destinations in the world — where the LED billboards were consuming perhaps enough electricity in an hour what a third world nation would in a month — and what I asked myself was, "How can someone living in a country that is perceived to be a consumers' paradise praise something that we in India (a country rapidly trying to catch up with developed countries in so many ways), have always considered a basic prerequisite in air travel?!" Was he, an airline customer, being short-changed?
As I thought through this, I was also looking back at the NRF show, where the Who's Who of the technology world were showcasing futuristic ideas and gadgets while also visiting what's next for retail giants. An AI solution here, a VR solution there, with bots in-between.
At this event NTT DATA Services was showcasing our Customer Friction Factor℠ service. We were highlighting the results of a study into various buying behaviors, which considered the point where a customer experiences a momentary drop in an expected purchase journey, and potentially bails out on that retail experience. We were running quizzes on data points of how much a retailer can save if they invest in the right solution to reduce customer friction (4x was the right answer!).
Running the two scenarios in my mind, I realized that we were perhaps one amongst the few IT partners at the NRF event offering an important insight, "What stopped your customer from completing that purchase?"
The NTT DATA Customer Friction Factor service is fast and comprehensive. Through this assessment, organizations from multiple industries (not just retail) can quickly see how their challenges compare to others in their industry and gain actionable steps to improve their customer experience with quantifiable value to their business.
A customer disrupted
As we speak of disruptions in the technology world and develop solutions for every sector, it's important for us to understand that the customer experiences these disruptions firsthand. Any change can force the customer to buy differently. Hence, for an IT vendor who helps industries and organizations gain profitability it's important to know the customer friction analysis and outcomes as they play a huge role in the buyer's journey. This is where the NTT DATA Customer Friction Factor service helps corporations understand and plug these vastly changing and dynamic friction points to grow faster. So much so that they gain an edge over their competitors.
Learn to wear the right hat
If it's raining, a suede hat may not offer much help other than a trip to the store to buy a replacement. As an enterprise, wearing the right hat means determining how your customer wants to be treated. A customer lost is a customer lost — there is no replacement. What our clients learn most from our friction analysis is what causes their customer churn, which friction point is responsible, and ways to eliminate that point.
Don't assume — get the right data
To bring us back to that conversation in Times Square: if a hot meal is getting such appreciation, are airlines analyzing the right data? If a stereotype of visiting New York is having Italian at Tony's, is there a stereotype forming in the airline world that equates service levels in American carriers as below average? Or have the consumers come to accept the service levels, based on industry standards within the country? I think the issue may be causing friction to some loyal well-traveled customers, and a good business would invest its time in identifying those factors.
Many times, sellers make the mistake of assuming. Organizations need the ability to dial back to the basics of customer service. Some very important baseline experiences are forgotten as they try to embrace the next big thing.