The Race is On to Drive Drama Out of Digital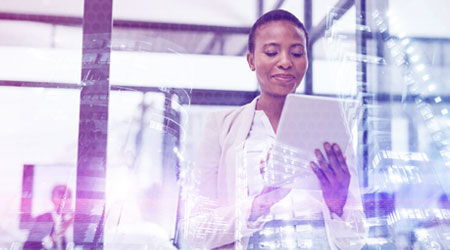 New economic data shows the U.S. is bracing for a recession, and the global outlook is uncertain. After several tumultuous years of disruption, the global markets and businesses worldwide are still struggling to find solid footing. For most organizations, this forecast means, once again, that business operations strategy will be put to the test. Organizational leaders feel like they're in a race to modernize; create resilience; and hire, retain, and engage their best talent to thrive.
When there's so much to think about, it can be overwhelming and, well, dramatic. Challenged by finite resources and a shortened timeline, business operations need to be laser-focused on enhancing revenue streams and driving down costs. As an executive facing these challenges, where do you start when every initiative is critical, and each issue is pressing? And an even bigger question: how do you keep drama that inherently comes with disruption from sidelining your strategy and key projects?
Based on our experience helping industry leaders realize their digital transformation goals, we have identified four key business priority areas driving transformation: business resilience, digital experiences, workforce transformation, and data-driven enterprise. Let's take a look at each one:
Business resilience
There was a time when business resilience was a paper-based exercise with a contingency plan for natural disasters, like what to do if your data center flooded. Times have changed. Today, businesses of every size need actionable strategies to stay connected in a crisis, allocate resources during disruption and implement technical changes to keep operations thriving even when everything around them changes.
Resilience isn't a passive reaction to events. It's a proactive, intentional approach to managing external forces. It's also a little about foresight. Anticipating that disruptions will happen — because they will — is a part of structuring a business resilience plan. With the right systems, talent, and processes in place, coupled with a clear understanding of how business value flows through an organization, a resilience plan can protect and support corporate goals when unpredictable events occur.
Additionally, being resilient includes simplifying the complexity that inherently comes with growth. Consider technologies like sensors, artificial intelligence, machine learning, and the cloud. Over the years, these technologies have been added, adapted, and even deleted. At every turn, thought needs to be given to all the other moving parts. A comprehensive business resilience plan will factor in these moving technology parts, weed out what works best for the organization and what's needed to grow, and dissolve those simply creating technical debt because they're no longer useful.
Digital experiences
Driving digital engagement across platforms leads to increased customer loyalty and more collaborative employee interaction. When lockdowns and remote work became the norm, companies pivoted overnight to digital business. They proved that a well-design digital architecture could create more personalized and faster engagement than many organizations previously considered. Once the factor of 'human-touch' or 'in-person services' was off the table, a customer and employee experience overhaul had begun.
When speaking about digital experiences with our clients, it was surprising to find that 32% said they feel they're running behind in delivering differentiated digital experiences. Measuring the ROI of digital experience investments saw the lowest forecasted investment levels. What's causing the transformation delay? Many organizations don't know where to start. Without understanding customer, employee, and even business partner needs, it's impossible to form a strategy to increase engagement. Having measurable KPIs, using data to understand patterns and forecast trends, and having a digital-to-the-core mindset are all key tactics for transformation.
Workforce transformation
In the workforce, turnover means cost. When employees come and go through a revolving door, there's a loss of productivity, a strain on training, and gaps in institutional knowledge. According to the U.S. Bureau of Labor Statistics, over 47 million workers quit their jobs in 2021.
If the Great Resignation has taught organizations anything, it's that what employees need — and expect — to be productive, engaged, and satisfied in their roles has changed. Employees aren't tolerating friction in the workplace, whether it comes in the form of outdated technology or toxic cultures. In their work environment, they expect the same digital ease they experience in their non-work life, like the flexibility of online shopping anywhere, anytime. Digital employee experiences focused on personalization, enhanced communication, and service are top priorities in the employee value proposition.
From a cultural perspective, it's no surprise that there's a new dynamic emerging between employees and employers. With an emphasis on a healthy work/life balance, employers must implement the technology changes that bring online convenience to employee tasks. Beyond technology considerations, organizational culture is at the core of workforce transformation. Employees want to contribute meaningfully to a company, brand, and culture that aligns with their values.
Data-driven enterprise
Business data is abundant, and with greater cloud adoption, gathering and storing data has become easier and less expensive than ever before. In fact, nearly two-thirds say cloud adoption delivers financial performance gains. Collecting and storing data is great, but if you're not tapping into the valuable insights data offers, then it's offering little-to-no value.
In recent conversations with our clients, nearly a third said they feel like they're running behind when using data within their organization. If you're migrating data that's not being used to help make informed business decisions to the cloud, it just exists in a different place. Accessible data needs to be appropriately analyzed, using specific points to determine where operations can work better. For instance, a financial organization can use various data points to understand customer spending habits to offer better investment and savings solutions to increase loyalty. Or a healthcare organization tracking weather data can alert asthmatic patients when to stay indoors due to poor air quality.
Enterprise-wide data governance needs to be considered, as well. If data is being used correctly, there need to be programs in place with buy-in from all internal stakeholders regarding access, compliance, protection, and reporting. Managing data precisely can be — and should be — one of the most important strategic initiatives a company or organization can take. It should be the fuel your organization uses to win the race.
The race is on
It's hard enough for an organization to stay ahead when market conditions fluctuate. But adding the pressure of not knowing how and where to make critical business improvements can make leading your company feel overwhelming. The best way to approach the digital transformation initiatives that will propel your organization forward is a mindset for change, experienced talent, and a strategic approach. There's no doubt the race is on. Will your organization lead the pack?