Empower Your Employees With Modern Field Service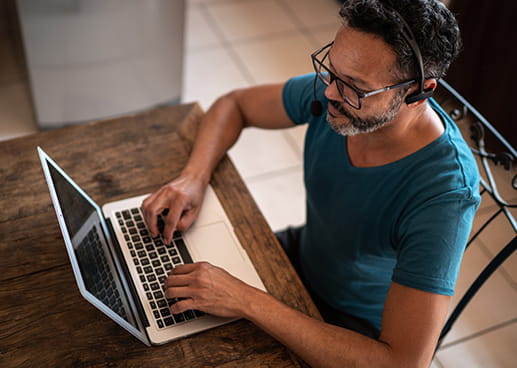 Workplaces around the world have undergone a metamorphosis. A distributed workplace operating model has become the norm, with remote work earning a permanent place in the employment mix. Adapting to the "New Normal" is not only reshaping our daily work lives but also making its way into the IT department itself. A day-in-the-life of an average IT person has become a lot different than it was before the pandemic.
Also driving this change are advancements in automation, AI, machine learning and other digital technologies, putting IT services on autopilot. At the same time, technology is becoming decentralized, as every department (from marketing to HR) is increasingly engaged in procuring and managing its own technology solutions. This shift presents both a challenge and an opportunity for IT to reinvent itself and add value to the company in new and different ways.
As I touched on in one of my previous posts on humanizing workplace IT, companies recognize that improving the employee experience pays dividends in the form of heightened performance while influencing retention. I think the evolving IT organization will be uniquely qualified to lead that charge, moving beyond the role of technology problem-solver to become a holistic advocate for workplace success.
It starts with self-service
What's the secret to a great customer experience? One could argue that it's getting customers exactly what they need in the most efficient way possible, even when there's no human interaction involved.
Consider how customer service works in hotels, which focuses on providing the best possible guest experiences. A great hotel visit doesn't necessarily require being pampered by an attentive staff. At a utilitarian business hotel, excellence could be defined by an effortless online check-in process, a comfortable room equipped with thoughtful amenities, and a complimentary breakfast buffet that's always well-stocked. Guests are happy to serve themselves and get on with the day.
It's similar for IT field service, where employees are the customers. As modern technology enables more self-serve capabilities in the workplace, it's becoming more apparent that sometimes the best way to help employees is to help them help themselves. Using a zero-touch deployment, companies can enable employees to provision devices on their own within minutes, replacing the need for an IT staff.
Another step can be empowering employees with automated self-service options to manage routine tasks like password resets and software updates. Self-service can be extended to the physical world as well. Technology vending machines, for example, are a relatively new development in corporate offices. Not long ago, when employees needed a new headset or mouse, they had to go through an arduous ordering and approval process, requiring the time and attention of IT and accounting staff. Now, with tech vending machines, employees can get their new device as easily as grabbing a bag of chips, and an automated system makes sure the correct department gets charged.
Similarly, digital lockers enable the quick and secure hand-off of personalized hardware like laptops and company phones. An employee with a malfunctioning laptop, for example, no longer needs an IT person to visit in person and investigate. Instead, she drops off the laptop at a digital locker, takes out a new one, and downloads all of her data from the cloud to the new machine.
Smart solutions like these not only make employees more productive and cut costs, they also free up IT staff to focus on providing a higher level of service. And that's where the role of IT begins to expand.
Assuming a broader role
Let's return to the hotel example for a moment. As I mentioned, there are plenty of situations where customers can — and might prefer to — handle things themselves. But there are other times when they need help with a more complex request, like scoring tickets to a popular show or arranging a romantic marriage proposal. It's situations like these where the hotel staff or concierge can really shine and take the customer experience to the next level.
The same applies to our IT services. With many employees working remotely, many organizations are grappling with an endless stream of help desk tickets. Using change management and improved communications strategies, IT teams need to encourage the adoption of self-service options for everyday issues to reduce the volume of these tickets. Level 1 service desk agents should be equipped with modern endpoint management solutions to control the endpoint and drive first call resolutions. Reduced ticket volume will free up time for IT resources to focus on more proactive services to address complex issues in ways that elevate the employee experience.
Another step in this direction is the increasing popularity of "tech bars" at large corporate campuses, similar to the Apple Genius Bars found in shopping malls. Appointment scheduling options should be provided to ensure employees can walk up at their designated time slots and get help with any technology issue they might have. Companies can also tap into augmented and virtual reality to empower field technicians and improve resolution time and user satisfaction.
Thinking bigger, IT will also have an important role to play in driving business projects. In every part of the company, groups harness advanced technologies to get better and faster at what they do, and they will need IT to help them reach their goals. Whether it's coding an RPA bot to streamline a critical process or gleaning insights from big data analysis, the new and improved IT will be there to advise and implement.
As technology becomes deeply ingrained in the fabric of every business, perhaps the IT department of the future will change its name altogether. "Workplace Services" might be a more fitting description. Whatever they're called, tomorrow's technology experts will be an indispensable resource in enhancing the employee experience and unlocking groundbreaking business achievements.
Discover what NTT DATA Dynamic Workplace Services can do for your business.