The Smart Return to Business, Campus and Classroom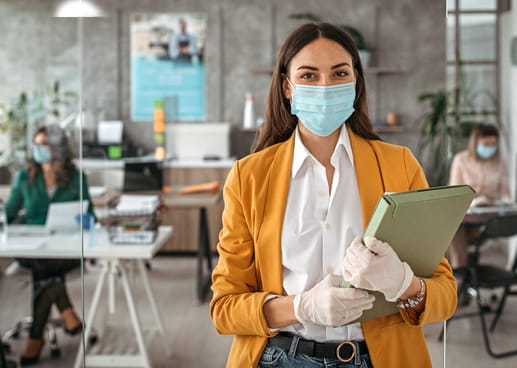 I recently spoke to a group of New York State Forum members about how technology can help with the return to work, schools, and campuses. While I was preparing for the talk, I did my research on how workers were feeling about going back to the office. What I found was the office we left in March has forever changed. Work from home is becoming a reality. Workers want flexibility, adaptability, and physical safety both at work and traveling to and from work. And organizations have found that working from home is working! Two-thirds of CEOs say they are considering downsizing their offices, with some looking to close locations completely. And more than 70% will let their employees continue to work from home after their offices reopen. In fact, according to recent McKinsey research, "digital is the wave of the future for B2B sales. More than three quarters of B2B buyers and sellers say they now prefer digital self-serve and remote human engagement over face-to-face interactions."
At the beginning of the pandemic, we witnessed short-term solutions. For example, grocery and big box stores hired extra employees to hand-count shoppers entering the store and control the crowded lines. And doctor offices substituted your car for their waiting room, called you to answer a verbal questionnaire, and finally had an employee take your temperature before entering the examination room. These solutions are labor-intensive and potentially put employees at unnecessary risk. We need long-term, sustainable solutions. That is where technology comes into play.
Technology for public health and safety
Imagine for a moment that optical sensors and IoT devices using advanced data analytics to help cities with safety concerns were reimagined to address many of the challenges associated with COVID-19. The city of Las Vegas has been using these technologies with NTT's Smart Solutions to manage and predict crowds in parks and shopping malls and dispatch police to help with public safety when a need is detected. The smart solutions have been repurposed for businesses, transit, schools, and colleges to control the number of people allowed in a building, classroom, arena, retail space or train. NTT's Smart Platform can also detect if people are wearing masks or social distancing and sound an alarm if violations are detected.
Additional technologies can also help stop the spread. Paper versions of the COVID-19 self-assessments are labor intensive and slow. Technology allows for computerized health self-assessments, contactless temperature screeners at building entrances, online portals for easy scheduling of COVID-19 testing, and dashboards with real-time results. Proximity notification technology enables identification of close contacts to facilitate contact tracing via our mobile phones — saving time by notifying populations of potential outbreaks across college campuses, schools or businesses. Appropriate, ethical use of this technology could potentially reduce exposure.
Technology for remote work
Telework was on the rise even before the pandemic. Many employees wanted a more flexible work environment. COVID-19 accelerated the telework adoption timetable across many industries. As we have seen over the last ten months, remote working is a viable alternative, yet, at the same time, we have also found that people want to feel connected to their co-workers and clients. A new modern workplace is emerging. It will be flexible, promote collaboration, and allow for work from anywhere. Again, technology will play a role — better webcams, noise cancelling headsets, video conferencing where attendees can visualize everyone in the same room — and the speaker can embed themselves into their presentation so they can better connect with the audience.
What we are seeing today is technology fueled resiliency. Business and individuals responding to the pandemic with new innovative ways to use existing and emerging technologies. We found temporary work arounds to provide essential services and more sustainable solutions will continue to evolve. As a self-confessed techie, I am looking forward to all the new technological breakthroughs.
On December 11th, I participated in the panel discussion, "COVID-19 and Citizen Centric Tech," during the MIT Vaccines for All: Digital Tools to Empower Citizens Conference, featuring experts in technology, academia, the health sector, and more. Check out the playback here (the panel starts at the 3:17:05 mark).