Seven Steps to Foster a Culture of Continuous Digital Workplace Transformation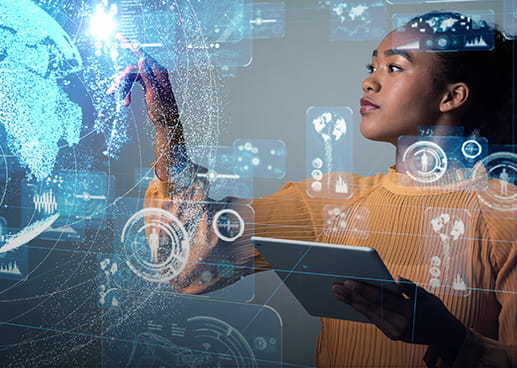 A funny anecdote in the tech world goes something like this: All technologies introduced before you turn 25 are typical and expected. From age 25 – 45, emerging technologies are exciting and cutting-edge. After age 45, new tech is just confusing and unnecessary.
Even for people in the technology industry, the pace of innovation — which is still accelerating — can be mind-boggling at times, and it's not easy to keep up with the latest skills. For any company with a multi-generational workforce, this is no joke and can have serious business consequences.
Workplace IT continues to evolve at breakneck speed. Changes that occur every few years (major operating system updates, enterprise software patches, new hardware releases) now happen more frequently. Some workers welcome the constant change, but for just as many of them (and not only the older ones), it's simply overwhelming. Rather than embrace the new and improved, they may be more likely to shut down and give up.
New technology gives companies limitless opportunities to increase productivity and performance, but they can't maximize their investments if their employees don't come along for the ride. To truly realize technology's potential, companies must focus on building an internal culture that accepts rapid change and is enthusiastic about sharing new ideas and capabilities to keep the organization moving forward.
A bottom-up approach
Why is it that so many employees fail to make use of new technology developments? By and large, it's not because the technology itself is poorly conceived or overly complicated. Instead, the problem is how rapidly recurring updates are introduced, applied, and promoted within the organization.
We recommend Continuous Digital Workplace Engineering as a way to overcome the disruption of constant change. Essentially, the concept is for Digital Workplace operations teams to improve the employee experience and add business value through a repeating cycle of evaluating product changes, piloting and testing, engaging stakeholders, and deploying and measuring results.
Employee engagement is the most important part of that process. Technology upgrades are more likely to gain adoption if employees themselves are leading the charge. Tapping into the influencers in the organization, whose growth mindsets have them constantly on the lookout for ways that tech can improve their work lives, can accelerate adoption across all generations. The key is for the organization to take a bottom-up, grassroots approach to determine what new tools make the cut and how they are rolled out. Empowering employees with support systems and mechanisms to experiment, share ideas, encourage others, and capture best practices can accelerate adoption and reduce disruption.
Seven steps to consider
While it's ideal for tech change to be peer-led, the organization can do a few things to kick-start that process.
1. Get organized and brainstorm. An excellent place to start is to identify some of the company's most influential technology champions — people from all levels and functions (technical and non-technical) who are avid users of technology tools to do their jobs better. Invite these employees to participate in a Technology Innovation Council or form a steering committee. The purpose is to brainstorm ideas cross-functionally and discuss how best to implement new tools and drive adoption. This team can crowd-source ideas from across the organization to bring them forward for consideration and engage in design thinking hackathons to rapidly prototype and evaluate proposed changes. Most importantly, they represent the employee experience, championing the different needs of different user groups.
2. Pilot and deploy. Leverage members of the Technology Innovation Council to pilot and evaluate proposed innovations. They can engage in the feedback loop and identify other candidates to be included in the pilots. Importantly, this testing phase should be done in collaboration with IT security, applications, and workplace operations teams to manage risks and measure the impacts.
3. Start the conversation. It's never too early to communicate, so make a point to reach out to users of a new tool as soon as possible. Engage them in the places they're already "talking," such as MS Teams, Slack, Yammer, or other platforms. Taking the conversation to where the people are can drive adoption more efficiently and enable the listening loops essential to getting the rollout right. Through rewards, recognition, and even gamification, celebrating employees' successes is another powerful strategy to keep growing the user base.
4. Provide on-demand and bite-sized learning. Training sessions should not be too long, with in-person meetings or even dull webinars. Users gain tremendous value from bite-sized training available on-demand at the point of need. For example, experts hosting "office hours" via chat functions can reinforce a hands-on approach to learning, which is how adults learn best.

Collaboration platforms that support casual conversation and capture best practices can also promote peer involvement and decrease the overall cost of learning. Let's say one person figured out how to use Microsoft's Power Automate to automate his monthly cell phone expense report, sparing himself 20 minutes of drudgework every month. Rather than keeping that little trick to himself, he could share it across the organization, exponentially increasing the ROI on that new technological capability.
5. Preserve and build on best practices. As important as it is for employees to generate new ideas, it's equally critical that valuable use cases aren't forgotten. Companies can index and make best practices accessible to users through chatbots and knowledge base articles and by leveraging automated voice transcription to make videos searchable and available. They can also help facilitate the knowledge management process by establishing a shared repository, such as a GitHub library, where technology best practices can be stored in perpetuity. On the one hand, this strategy helps associates find existing use cases to avoid "reinventing the wheel." On the other hand, it spurs innovation by enabling other groups to build on or modify best practices for their purposes. Taking this idea further, adopting a DevSecOps approach with sprints and milestones can help teams overcome obstacles faster and continuously improve solutions.
6. Promote best practices with gamification. A spirit of friendly competition among coworkers can be beneficial for accelerating change. Who doesn't love to be recognized for a terrific idea? Try instituting programs such as an "Innovator Of The Month" award or something less formal to reward people who are active tech adopters frequently. Keep in mind; not all progress has to be technology-driven. For example, we had one client who had a problem with old laptops not being returned, which led to unnecessary lease payments and potential security problems. When someone suggested that employees were "squirreling away" the old machines, an idea was born. They started a "Don't Be A Squirrel" campaign, where users were rewarded with a stuffed toy squirrel (and a $10 Starbucks gift card) for returning old equipment on time. Other employees saw the squirrels around the office and wanted in on the game, which was ultimately a huge success.
7. Observe and improve. In the real world, not all workplace technologies will take root and grow through the organization. Some concepts will flourish; others will wither on the vine. But with digital experience monitoring, the IT department can gather data to better recognize correlations between high-performing employees and the apps they use most. IT can provide evidence to the technology steering committee for which apps or features should be promoted more heavily and retired or modified.
In today's digital marketplace, it's more important than ever for companies to move swiftly and decisively. Late technology adopters may think they're playing it safe, when in fact, they're sentencing themselves to a lifetime of playing catch up. That's why developing a culture of continuous digital workplace transformation is essential to stay current and competitive. Ultimately, this heightened state of maturity can unlock new levels of productivity, engagement, user experience, and innovation. That's a formula for success that everyone can agree on, no matter how old they are.
Get started with a roadmap to build the workplace of tomorrow.