Confessions of a CIO: The Top 5 Things the Pandemic Taught Me About Cultivating Resilience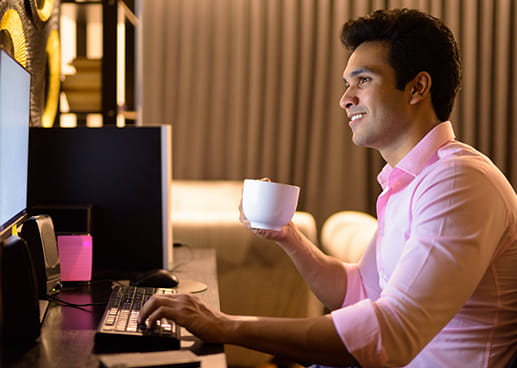 When I envisioned 2020, I never imagined our company would have to transform the NTT DATA business model in less than two weeks. But that's exactly what we did. Starting in mid-March, we hustled to make sure our 40,000 plus employees around the world were safe at home. From there, we dove into helping them be productive to ensure seamless service for our clients — many of whom were frontline organizations fighting to manage the pandemic. We accelerated that process using our own digital-first offerings, including Dynamic Workplace Services, Virtual Desktop Infrastructure (VDI), and a variety of Security and Cloud Transformation services. In making our Remote Work program a reality, I've learned a lot about becoming more resilient — both as an individual and as a company.
Resilience isn't just a buzz word
It's about the ability to absorb stress and thrive in unexpected circumstances. Resilience is especially important in business operations today because the global environment has become more dynamic and unpredictable on every level.
The power of connection
The pandemic has taught us that a moment of real connection can lift your spirits, help you feel valuable, and increase resilience. This is as true in our personal lives as it is at work.
To that end, I have a confession to make:
There's nothing I love more than walking around my office, talking with our employees. I like being right there to support them with the challenges they face. Now, working from home makes that tough. I don't know how you substitute for the kind of encouragement and camaraderie that happens in-person, but we're trying to support each other the best we can. Of course, real connection and real support can also boost productivity.
Here are five powerful things we did at NTT DATA to overcome pandemic-related challenges. Some may surprise you; all can help you meet the moment we're in and prepare for the future.
1. Invest in training
Pandemic burnout is on the rise. Taking time out of the workday to provide training opportunities gives employees a breather, empowers them with new skills, and positively impacts your business. Partnering with Microsoft Teams and Zoom for training and collaboration has upped our game, unlocking features we weren't using, such as the change management features and interactive polls for Zoom meetings. Give it a whirl — you'll be glad you did. Better training can only make all of us more productive and effective.
2. The new water cooler
Create new ways to have fun with work. Why? Because it boosts morale and helps people feel more invested in your culture and community. One of my teammates came up with an idea I love called "The Water Cooler." It's a Zoom meeting room that's open every morning. Just like the old-school water cooler, you can hang out and connect with people. We're hoping to create them for all our locations, so we can all meet and learn from new people around this global, virtual water cooler.
3. Increase self-sufficiency
A lot of what's on our radar are tools that deepen self-sufficiency. Giving people tools to solve their problems from home is a powerful way to increase resilience — it builds confidence and reduces stress. Solutions we use include self-service software, password reset, and Chatbot. Our cloud-based ticketing system has also boosted self-sufficiency and productivity — and like our other solutions, it is accessible anytime, anywhere on any device.
4. Lock it down
Keep your attention on advancing security solutions. Our CISO, Steve Williams, began an amazing security journey three years ago that set up NTT DATA well for the pandemic. He brought in Zscaler, a cloud-based solution that enabled us to get people working securely from home, along with fingerprint readers, Okta, for single sign-on, and CrowdStrike to ensure our endpoints remain secure anywhere in the world. These solutions were an essential part of our Zero Trust Architecture. Implementing the right security solutions will help keep your organization locked down and resilient.
5. The best-laid continuity plans
Planning can feel daunting, so we often push it aside for later. Sure, you might plan for a site, application or region, but hardly anyone plans for a global pandemic. The future is now — having Business Continuity Plans (BCP) in place is essential. Many IT organizations have technologies similar to a VDI at the center of their BCP to help manage resources and ensure team productivity in a dynamic, scalable, secure way. You also need to ensure your BCP covers resources (e.g., what happens if 50% of your team cannot work). Now is the time to assess your BCPs and upgrade them where needed for resilience in the future.
Where do we go from here?
The challenges we've faced at NTT DATA have brought our team together more deeply than ever before. It feels like our sense of purpose is more profound, and that has accelerated productivity to new levels and increased our ability to support our clients and each other. It's exciting and, honestly, really moving.
Regardless of what industry you're in, the question we all share moving forward is this: how do we make ourselves as resilient as possible and set ourselves up for the future, no matter what it holds?
Whatever your next steps are, make sure these are top of mind:
Find ways to support the wellness and engagement of your employees
Automate mundane tasks and implement robust collaboration tools
Integrate self-service solutions
Move those services you can to the cloud and offer them through multiple touchpoints
Revisit and refine your business continuity plan because the next disruption is right around the corner
I have one more confession to make:
If you had told me I'd discover something positive during this pandemic, I would've said you're crazy. But the truth is, the lessons I've learned have become my roadmap for resilience.
Learn more about our story: strategy, tools and client support, and how we can help your organization make The Big Pivot.