The Office is Ready for You. Are You Ready for the Office?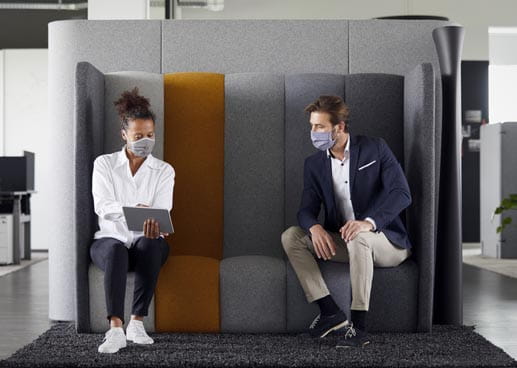 Plenty of information is available to assist companies in preparing the workplace for returning employees. Adopting prevention measures (sanitizing, distancing, etc.), deploying workplace controls (increase ventilation rates, space reconfiguration, etc.), and implementing procedures for identification and isolation of employees (health screenings, self-monitoring, etc.) to name a few. There are also legal considerations such as leaves of absence, workplace safety, timing decisions and policy changes to consider. Simultaneously, companies need to prepare employees to return to the workplace. Identifying and addressing the human impacts of COVID-19 means assessing the emotional and mental implications of a return to the office for employees, along with addressing each employee's unique needs and concerns for returning to the physical workplace.
Most employees are in a state of heightened anxiety at the thought of returning to their office. There is a multitude of safety and health concerns, and not all concerns are shared. Lifestyle, socio/economic, geographic location, personal beliefs, experiences, opinions, and even political perspectives shape unique and vast concerns. Beyond physical safety, employee mental well-being and emotional health must be taken into consideration to develop a comprehensive reopening strategy.
Flexibility within instability: an employee-centric approach
A return to the workplace strategy must consider the employee experience. A "one size fits all" solution is not recommended or feasible given greatly varying perspectives on safety, comfort, and lifestyle choices while dealing with COVID-19. Flexible options for employees and the business will be critical. The new workplace should be constructed broadly as well as granularly — designing for how work now fits into life overall while also considering minute interactions that could impact safety, such as how one parks a car on campus or switches on lights. An employee-centric approach to planning the return to office would ensure that employee perspectives are included, their needs addressed, and diligent, thoughtful plans communicated.
The employee-centric approach should reflect the end-to-end workforce (including candidates, employees, contingent workers), solicit input from the workforce about their concerns/needs, invite the employees to participate in developing the plan, and design tailored experiences for each employee group.
Business Readiness techniques for a seamless transition
Employees can become overwhelmed with too much change, especially when the change surrounds mental and physical safety. Anxiety levels may go up — inhibiting the ability to adopt new behaviors, mindsets, and ways of working. Additionally, the ability to effectively and efficiently perform daily duties is diminished.
Business Readiness is the process of ensuring that employees are prepared with the requisite knowledge, skills, and abilities to succeed before, during, and after a transition. Business Readiness uses Organizational Change Management and Adoption processes with Behavior Science to ensure the workforce is ready, willing, and able to manage the human side of change and drive adoption of new behaviors. Business Readiness guides employees through the disruption and transition of returning to the workplace to enable successful adoption and adherence to new safety measures, as quickly as possible. Here's the approach:
Aligning, involving and supporting employees early and often
Building capability from within to adapt to the new environment
Promoting positive and lasting behavior change
This approach is not one size fits all — it's a framework tailored to the unique needs of an organization, using a human-focused perspective to guide the employees through the return-to-office journey.
Four levers within NTT DATA's Business Readiness framework are critical to successfully preparing employees for returning to the workplace.

Strategy and Sponsorship: This first lever is about laying the groundwork and creating executive alignment. Many employees will experience higher levels of anxiety when returning to the workplace. Therefore, any strategy or plan must be thoroughly vetted and approved by leadership. Leaders must be active in supporting the return to workplace strategy, by being visible, exemplifying the new behaviors and making themselves available to answer employees' questions and concerns. This first lever sets the stage for developing the optimal Business Readiness strategy and creating executive alignment.
Engagement: Engagement is about getting everyone on board with the strategy and resulting plans. Human beings naturally resist change, even more so when the change is highly disruptive. Employees need to understand exactly how they will be impacted by the transition and what they can do to manage the change successfully. Employee groups must be clearly defined to mitigate confusion on return to workplace expectations and timing. By understanding and analyzing the various employee groups, we capture key transition points, identify and plan for reactions and resistance, and enable the necessary levels of support. Targeted, frequent, and accurate messaging will be vital in ensuring a successful transition, along with feedback mechanisms to address immediate needs.
Capability Development: This lever reinforces the need to provide the right information at the right time to the workforce to build necessary skills and help employees take accountability for new behaviors when they return to the workplace. Developing capabilities to function in the new environment successfully is bolstered by educational materials and easy-to-access support tools. Deploying an internal, local peer network to provide assistance and exemplify new behaviors is one mechanism that ensures employees receive hands-on guidance. Additionally, employee resistance is to be anticipated, and proactively managed to identify the source and manner of opposition. Behavior plans identify areas where new behaviors, mindsets, or actions are not supported and provide ways to remediate the root cause early on.
Sustainable Transformation: This final lever is based on the knowledge that the goal of any change effort is to have new behaviors, mindsets, and ways of working "stick." However, recently adopted practices can erode over time, diminishing the desired long-term results. To ensure the change becomes "second nature," it is critical to put into place mechanisms to measure, track, and report on adoption and adherence during implementation and beyond. More so, the creation of ownership and accountability expectations enables employees and managers to self-align and self-regulate. Positive reinforcement, such as incentives, rewards, and recognition can encourage employees to continue the new behaviors for the long haul, and well-defined consequences can discourage retreating into old habits.
While there is sufficient information available to help employers prepare the workplace for returning employees, gaps remain on how to prepare employees for returning to the office effectively. Most employees are anxious about returning to the workplace and will require support before they can feel safe enough to make an effective and worthwhile transition.
Our Employee Experience team can assist with building a comprehensive reopening strategy that ensures employee concerns are considered, their mental well-being and emotional health are regarded, and their unique needs and concerns are addressed. Our human-focused and integrated Business Readiness Practice will guide employees and leaders through the strategy implementation with a focus on mitigating disruption and risks; effectively preparing employees for new ways of working, behaviors, and mindsets to successfully and safely return to the workplace as soon as possible.
Are you ready to return to the office? Check out NTT DATA's Dynamic Workplace Accelerators?