Game Changer Arushi Srivastava Leverages Big Data, AI and Automation to Transform Cities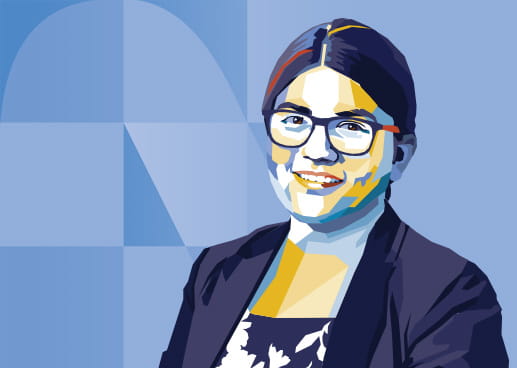 She's a Senior Director by designation, but Arushi Srivastava prefers to call herself a Solution Architect. At NTT DATA we call her a game changer. Arushi is changing the game by helping NTT DATA's clients, throughout the world, leverage cutting-edge technology solutions using advanced data analytics, artificial intelligence, IoT and automation.
Arushi helped to create one of the first big data and blockchain platforms at NTT DATA and now leads the Deployment, Operations and Expert services team for the company's Accelerating Smart Platform. The platform is transforming the way cities and commercial organizations use data. A passionate, well-respected thought leader, Arushi is shaking things up in the world of "smart."
Arushi's passion for challenges and change
Born in the small town of Sitapur in India where, growing up, not may girls pursued engineering degrees far from home, Arushi did things differently. She graduated with an Information science and engineering degree from a university more than 2000 kilometers away from her home. Arushi's fascination with technology began as a pre-teen when computers arrived at her school. They ignited a passion for STEAM that continues to this day. Despite pursuing a non-traditional field, Arushi received strong support and encouragement from her family and teachers; she now pays it forward by encouraging women to enter STEAM fields with NTT DATA's Women Inspire NTT DATA (WIN) and other non-profits.
While at university, Arushi's leadership and foresight began to emerge. She and Ninad (now her husband) started the first mathematics club and won robotics-related challenges. Arushi caught the eye of NTT DATA while on campus, she was recruited to join the company, and has been with the organization for more than 15 years. No stranger to change, she moved to the U.S. where both her career and family have blossomed.
Technology, like life, is always changing. Arushi finds that stimulating, "Every few months, there is a new technology wave that challenges us to think afresh again, with promise for transforming the way we live, work or communicate. Sometimes that means going back to the drawing board and learning — just like my 2-year old—but that is what keeps me interested. That's why I love what I do at NTT DATA. It never gets boring."
Creating a Smart City
Most recently, Arushi played a key role in an ambitious smart city initiative. Las Vegas began looking for technology solutions to help the City's downtown run smoother and promote business development. At the very same time, NTT DATA was seeking a partner to implement a new solution that emerged from our research and development efforts. "We were looking for cities interested in and ready for innovation," said Arushi.
City of Las Vegas Director of Innovation and Technology Michael Sherwood was considering ways technology could benefit local businesses and support the public safety department in the Fremont Street Experience area of downtown. Arushi said, "Michael became the perfect champion for a smart city because he loves innovation and wanted to solve problems with technology. He looks at things differently than other government leaders; he is focused on innovation. It was a perfect fit."
Arushi and the Accelerating Smart Platform team worked closely with Michael and the City's public safety, transportation, and traffic departments, completing an end-to-end smart city implementation within a few short months. The Accelerating Smart Platform, with its distributed IoT connectivity, includes microdata centers in locations throughout the City's Innovation District. The Accelerating Smart Platform analyzes large volumes of data but only stores and forwards data if an incident has taken place or needs more investigation; for example, if there's been an accident or incident and emergency services must be notified.
Optical sensors, sound and motion sensors, and IoT devices throughout the downtown area, known as the Innovation District, send data to the microdata centers. Existing data about crime, weather, and other variable inputs are integrated into the system, which can learn, adapt, and predict problems before they occur, helping to direct resources quickly to when and where they're most needed.
"Whether in New York, Chicago or Las Vegas, when a lot of tourists visit who are unfamiliar with the city, traffic and public safety issues come visiting with them. But so far no one has tried to evaluate and solve those issues with the data that they already have," she said. "Until now, that is."
The Accelerating Smart Platform has already prevented several vehicle accidents on a busy stretch of a one-way road downtown with a high incidence of wrong-way driving. "We were just trying to get the traffic count and look at traffic trends, when we realized our analytics identified a lot of people who made wrong-way turns," Arushi said.
In Las Vegas, NTT DATA is also helping "the city look at things using an economic development lens by providing insights to local businesses," she explained. For example, the Accelerating Smart Platform can recognize trends, and predict the busiest times for restaurants and cafes so they can be better prepared to accommodate the predicted crowd patterns.
Creating a repeatable model
Perhaps the most extraordinary characteristic of the Accelerating Smart Platform is that Arushi and her team had the foresight to build it for adaptability and versatility so that it's expandable and repeatable in other cities. Several countries are already keenly interested in exploring the potential benefits of the Accelerating Smart Platform, not only in their cities but also across other industries.
"And it's not just cities that gain from our solution," Arushi emphasized. "College campuses and sporting venues are interested as well." After all, she explained, campuses and stadiums are just very tiny cities, with similar challenges.
Once the infrastructure for the Accelerating Smart Platform is in place in a city, a college campus or other location, expansion is fast. Deployment times are reduced exponentially with every new phase. It's just a matter of placing more sensors in targeted locations. Since the initial implementation, Las Vegas recently expanded with a new initiative to protect the Community Healing Gardens and historic Downtown Showgirls sign from vandalism. NTT DATA deployed the solution in a little over a month and is building new features to enhance the Accelerating Smart Platform that can expedite data analytics and intelligence for heterogeneous data sources and IoT ecosystems. It's an example of NTT DATA's data intelligence and automation expertise in a real-world setting.
Now Arushi is setting her sights on bringing the power of the Accelerating Smart Platform to future cities and commercial enterprises. From improving safety to reducing expenses associated with continuous monitoring, and by more efficiently directing resources, the Accelerating Smart Platform can positively transform cities, college campuses, and other industry verticals.
Arushi Srivastava is changing the game by leveraging emerging technologies to build solutions for a smarter world. The Accelerating Smart Platform was designed to be "ever smart, ever growing and ever dynamic." Coincidentally, those same three characteristics can also be used to describe her.
Learn more about the City of Las Vegas smart city project, intelligence and automation and how NTT DATA can help you build a self-driving business. Don't forget to explore our public sector services to find out the many ways NTT DATA is helping governments.