Welcome to Our Village: How Digital Partnerships Can Make Care More Personal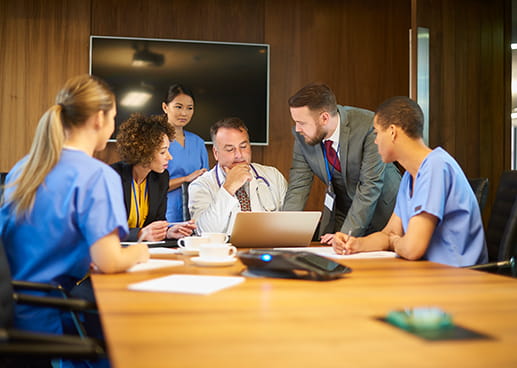 Healthcare IT is not known as a warm and fuzzy discipline. But new digital technology can help bring healthcare providers closer to their patients while making care more effective and affordable.
Imagine, for example, that you are an older patient with congestive heart failure, living alone. You've been doing pretty well overall, but the last couple of days you've been feeling a bit breathless and more tired than usual. It's 8 p.m., and you're realizing that something might be wrong. Is it a cold? Or is your heart failure growing worse? Do you call 911? Wait for your doctor's office to open in the morning? Without access to your care team, you feel uncertain of what to do. Even worse, you feel very alone.
Now imagine that your doctor offers virtual care visits. You sit down at your computer and log onto the virtual care platform. In moments you are connected to a caregiver. You can see each other, and the caregiver can access all your medical records, including readings from your blood pressure monitor and weight scale. With this info and some discussion, the two of you decide that a change in the dosage of your medication is needed. You follow the caregiver's advice, and by the next morning, you are feeling better. Best of all, you avoided a trip to the hospital, and you also avoided a long, lonely night of worry.
That's just one example of how digital technology can make healthcare more caring and personal. As healthcare grows more complex, it can be a daunting environment, both for patients and caregivers. Digital technology can simplify our complex environment and make life easier for everyone.
Creating the digital environment, however, can also be complex. No single vendor has all the technology or all the answers. That's why NTT DATA has chosen to work with a broad array of partners whom each bring something special to the table to enable Digital Services that care. For example, InTouch Health has an industry-leading, easy-to-use virtual care platform that is revolutionizing telehealth. NTT DATA works with them to integrate the data from virtual visits with a health system's other applications. This allows doctors to access patient records during virtual visits, and ensures the data from each virtual encounter is available to the other enterprise systems. We also advise health systems on their telehealth projects, partnering with them to increase the adoption of virtual visits across their enterprise.
It takes a village to make all that happen. We also work with other partners and NTT DATA operating companies (such as Dimension Data and NTT Security) to create digital systems for clients. These include patient engagement systems, population health projects, data lakes, intelligent automation, security, AI and analytics. By working with these partners, we can offer clients a much broader range of options, ensuring that, together, we find the best solutions to their challenges and opportunities. And we offer the services around each solution to help clients sustain their progress and accelerate their digital agenda.
At HIMSS19, we showcased many of these solutions, and our partners were in the booth alongside us. Here is a recap of the great solutions we had at our booth this year:
InTouch Health offered demos of their industry-leading virtual platform care solution; highlighting a direct-to-consumer use case. The demo covered the consumer intake process, virtual video consultation, physician's workflow and visit notes capturing process.
MarkLogic showed how a flexible data strategy enables a 360-view across all data sources — enabling better analytics to improve patient outcomes and reduce costs and inefficiencies.
CentraForce Health demonstrated the integration of Comprehensive Determinants of Health data and insights, such as socio-economic, health behaviors and attitudes.
Enli showcased new innovations in value-based reimbursement analytics. The solution, co-developed with NTT DATA, uses clinical and claims data to forecast and monitor the success of proposed and active risk-based contracts. Purpose-built for health systems and ACO's entering into risk, the solution projects anticipated performance before a contract is signed, all while providing insights on active contracts that have the greatest financial impact.
Other thought leadership activities at HIMSS19 included:
NTT DATA Services Lunch & Learn: Common Healthcare Security Errors and How to Avoid Them This program showed how common Security Program mistakes occur and demonstrated real-life examples for how they can be prevented, including:
New insight into everyday security challenges
"Real world" common mistakes made in healthcare security
Possible solutions and new ways of looking at these mistakes
Presenters were Frank Negro, Advisory Consulting, Healthcare and Life Sciences for NTT DATA Services; Bruce Snell, Director, Emerging Threats and Disruptive Technologies for NTT Security; and Jerry St. Tomas, VP, Chief Information Security Officer for Apria Healthcare.
NTT DATA gives back
NTT DATA has a long history of giving back to worthy causes, and at HIMSS19 we joined forces with The CHIME Opioid Task Force, DisposeRx (who offers a unique and safe method for disposal of unused or expired medications), and Luster Mosaics to create a large format mosaic image, built from individual user-contributed pictures posted on Twitter and Instagram.
NTT DATA donated $5 to the CHIME Opioid Task Force for every post using the hashtag #NTTDWhyICare and used images from the posts to create a unique experience on the show floor. NTT DATA and DisposeRx presented a check for $15,000 and revealed the completed hashtag-driven social media mosaic art to the CHIME Opioid Task Force.
If you attended HIMSS19 I hope you had the opportunity to meet and interact with our village. If not, we invite you to view this video recap and contact us to learn more.