Celebrating Diversity — NTT DATA Services' Elizabeth Towson on the Importance of Fostering an Authentically Inclusive Workplace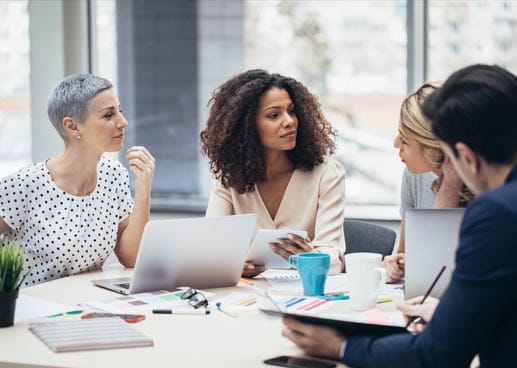 According to the World Economic Forum, companies with a strong track record of gender diversity are 15 percent more likely to have higher earnings than their peers. In fact, Fortune 500 companies with the highest representation of women on their boards significantly outperform the others. Clearly, gender parity is good for business! On top of that, we're at a unique juncture in history, where women are more educated and healthier than ever. Studies show that financially independent women are game-changers for their families, their communities and their countries. Business obviously has a key role to play in advancing gender parity. By implementing and scaling positive initiatives that directly benefit women at work, NTT DATA Services can be an important vehicle for fostering the leadership of women.
We've made significant progress in places like the U.K., for example, where the gender pay gap between women and men is 7 percent. But we can and will do better. Keeping an open mind is healthy for all of us, especially when we encounter someone or something new or different. We may not even be aware of our "blind spots," which is why we're focusing on unconscious bias — because it's difficult to create change without being aware of what hinders it. Awareness of biases is a step toward fostering diversity and achieving our goal of inclusion.
Ramping up our Employee Resource Groups (ERGs) is a major milestone since these are key to building a sense of loyalty and belonging at NTT DATA Services. We want to provide forums that offer support and understanding for all employees. Since acquisitions are part of our growth strategy, it will be good for us to establish a process that makes it easy for new employees to quickly find and join a group. ERGs are completely voluntary and based on common interests, backgrounds or demographic factors such as gender, race or ethnicity. They can also be instrumental in our recruitment efforts, as we present an authentically inclusive workplace.
I joined the company 14 years ago, in 2005. Before that, I held several positions in HR at EDS, mostly in recruiting leadership. I was also an HR Business Partner and led Global Leadership Training during my career there. Since then, I've seen increasing passion around the topic of diversity and inclusion — with more people volunteering to participate in some way. Many employees are expressing interest in ERGs including LGBT, Veterans, African-Americans and Persons with Disabilities. Since taking on this role, I've been inundated (in a good way!) with ideas and experiences from team members around the world. There is a thirst for this kind of progress, and we intend to quench it!
For myself (and many others), there's an absolute, direct link between day-to-day activities and participating in an ERG. In my "day job," I get to work with a truly talented team across all geographic and cultural boundaries. These experiences shape and inform my perspective on our changing world. For me, Women Inspire NTT (WIN) provides additional opportunities to nurture the personal and professional development of women.
It's another way that we can promote and support diversity and inclusion, while recognizing and respecting the individuality of all NTT DATA team members.
Read the announcement by NTT DATA Corporation, with a statement by Yo Honma, President, and CEO of NTT DATA.
#balanceforbetter #IWD2019 #NTTDATA @nttdataservices
International Women's Day 2019 blogging schedule: