NTT DATA Game Changer Jim Adams' Commitment Runs Deep: How he helped a bank transform its people, processes and technology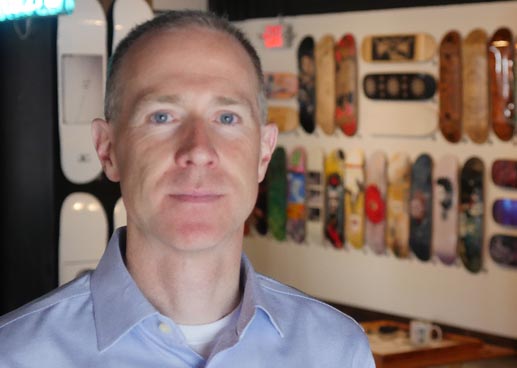 Jim Adams is a Business Consultant and Senior Director with NTT DATA Services. A deep commitment to clients and teammates is what sets NTT DATA apart from other consultancies, according to Jim. In this blog post, Jim shares how he helped a regional bank make a four-year journey to transform its people, processes and technology to meet clients' 21st century expectations.
Q: Your work as a business consultant to financial services firms takes you on the road a lot. How do you manage that lifestyle?
A: I'm from Atlanta where it is almost a requirement to play tennis. So, one thing I do when I am on the road is get my colleagues on the court. It's a great way to let off steam, get exercise and build friendships. When you are away from home 45 weeks a year, it's challenging. You sacrifice time with your family. You sacrifice sleep and home cooking. But the rewards are exceptional: the bonds you form with your team. The everlasting friendships you make with clients. And the reward of knowing you served up every bit of your capacity to help the client succeed.
A whole bunch of us recently spent four years transforming a regional bank's technology and operations. We were together from beginning to end. Our lives changed during that time. We shared trials and celebrations. One of us lost a father; others welcomed children. When you work this way you're not just invested in the project; you're invested in each other. You become a family.
Q: Tell me about that transformation project.
A: It was a four-year journey to transform a regional bank's commercial lending business to meet clients' 21st century expectations. We transformed legacy processes and aging systems into scalable, best-in-class technology and operations. By the end of the transformation, the bank had a completely new commercial loan platform and processes that positioned their organization for the future, streamlining the front office through back-office activities, reducing operational risk and enabling future growth. With this new foundation, they could be more responsive to market changes, regulatory demands and emerging opportunities created by new data and information. We also helped centralize the middle office to create an environment where the client-facing teams could more efficiently respond to the needs of their clients. We took the whole transformation live over a two-day weekend and transitioned to business-as-usual operations in three weeks, all while delivering the low-risk transition that their culture and clients require. For a change that impacted so many aspects of the lending business and so many associates, that's a big deal.
Q: Four years is a long time. How do you maintain focus and ensure transformation?
A: The way we view transformation is critical to success. It's about making the business function better and making sure the customer experience is the best it can be. A lot of people talk about that, but it's a very different thing to invest in all the activities to make that come to fruition. That includes working within the client's culture to build across business, technology and data.
We start a transformation engagement by understanding what the business is trying to accomplish — not what technologies the bank is trying to change or what processes it wants to make better. Those business goals are specific for this client and specific to the way that they do business with their customers. We don't push a one-size-fits-all approach. We leverage our successes but work together to identify what approach will work best for our client's specific culture and goals.
Transformation doesn't come from bolting on parts or cramming technology into the business. It doesn't come from forcing a business change that taxes the technology. We're not building Frankenstein's monster. A transformation encompasses all those areas. People, processes and data all have to work together for transformation to happen. The origination and fulfillment have to function seamlessly. We integrate all the parts together in a way that fits the client culture. This is critical to bringing people onboard in an organized and constructive way.
How do I maintain focus? I love this stuff!
Q: You've talked a lot about commitment to your clients, your colleagues and the project. Do clients value that commitment?
A: Our clients know they are getting a different level of partnership and commitment when they engage with NTT DATA. They know we are invested in their goals as well as in each other. They feel it. We have a unique ability to put together teams that take ownership of the problem and will do whatever it takes to solve it. We never see a project as "the client's project." We see it as "our" project. That's the kind of ethic we reward and hire. I once had a tennis coach who said he saw a lot of people who have the ability to be great but few who have the will. We have the will to outplay everyone.
Watch Jim's Game Changers video here.
Get to know NTT DATA
Respond faster to customer and industry trends: learn more about NTT DATA's Consulting Services and IT services for Financial Services institutions.