Henal Shah Helps a Top 4 Bank Redesign Its Automation Center of Excellence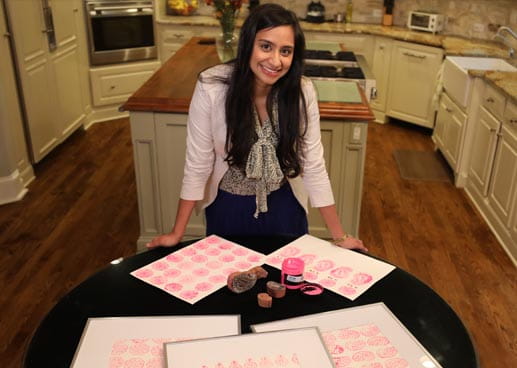 NTT DATA Senior Manager Henal Shah began block printing to feed her creative side. She discovered that designing art takes more than talent and inspiration; it takes patience, practice and discipline. These are many of the same qualities she helps financial services firms develop as they start down their digital transformation journeys. Read how Henal helped a top 4 bank re-imagine and re-invent its approach to automation.
Q: I know from speaking with you that you have a creative side. Can you tell me about the block prints you create?
A: In block printing the artist uses a hand-carved wooden stamp and ink to make an impression on fabric or paper—it's an artform that dates back thousands of years. It takes patience, practice and some discipline to learn how to use the tools and ink and to think through the process. But I also give myself the freedom to learn and explore. That's what I really enjoy about block printing—there are so many ways you can play with it. How can I use color or repetitive patterns to achieve the design I want? What effect can I create when I play around with positive and negative space? I like to think about what's working, what's not working, and change my approach to get the result I want. That's the kind of creative process I really enjoy.
Q: As someone raising three young boys with her husband, is encouraging creativity in your children important to you?
A: Children are naturally very curious and my children are no different. I find that art is a good way for them to explore and express that curiosity. So, we do a lot of art projects together: we paint, we build, we use watercolor and sidewalk chalk—a lot of different things so they can draw, explore and just free think. Usually, I give them a blank canvas and let them go. It's always fun (and sometimes surprising) to see what they come up with.
Q: How do you apply your creative side to your work at NTT DATA?
A: I leverage my creative side every day in my work with NTT DATA helping to design and shape our offerings and capabilities, so they match the needs of financial services organizations.

The financial services industry, like other industries, is leveraging emerging technologies to help do things faster, serve customers and employees better and be more cost efficient. As firms learn how to apply technologies like intelligent automation, machine learning and data analytics, they're looking to engage best practices and know-how in order to get the most value out of them. So, as part of our Data and Technology practice, one of the creative things that I get to do is refine our offerings to help them better address digital transformation journey challenges.
Q: Can you tell me about what some financial services clients are tackling as they explore digital transformation?
A: A lot of financial services organizations are starting off their digital transformation journey with robotic process automation (RPA). They often don't get the full value that they set out to achieve because RPA alone may be only one component of the required solution. By broadening their approach and using multiple technologies, such as optical character recognition (OCR) and machine learning, firms can create a more holistic automation solution that creates more value. But it's not just about leveraging new technologies, financial institutions also need to rethink operating structures and models when it comes to these new technologies. It's a little like block printing—it's the combination of the right range of tools and a fine-tuned process that help banks make progress.

Here's an example: a top 4 bank came to us because they were at the beginning of their digital transformation journey and their automation journey specifically. They had set up an RPA Center of Excellence (CoE) at the enterprise level that was designed to partner with the different lines of business to help them learn how to mature in their ability to identify viable use cases and automate specific processes. But they weren't getting the traction that they were looking for. They had the vision but really needed the bridge of how to get there.

We came in and assessed the current state of the CoE and evaluated how they partnered with the lines of business to gain both a customer and CoE perspective of their challenges. Ultimately, we created playbooks that outlined a new operating model and the automation lifecycle.

Where we really got creative was in how the automation Center of Excellence and the lines of business would engage and how people would progress through the maturity framework. We took a blend of traditional SDLC methodologies, RACI models and Agile approaches, and we mixed them together to come up with an enterprise framework to automate a process from end to end.
Q: Did the client achieve its original vision?
A: Yes. The bank used the approach and methodologies outlined in the automation CoE playbooks to guide how teams automate a process from beginning to end. They also gained consistency and transparency across the enterprise they didn't have before.

As a result of this work, the bank not only was able to shorten the time it takes to automate a process, but also enabled their line of business teams to transform how they operate. I loved being able to help a client refine their tools and processes to drive cost efficiency and transform how they do business.
Get to know NTT DATA
Learn more about NTT DATA's solutions for Banking and Financial Services.
Meet our Game Changers here.