Redesigning the Customer Adventure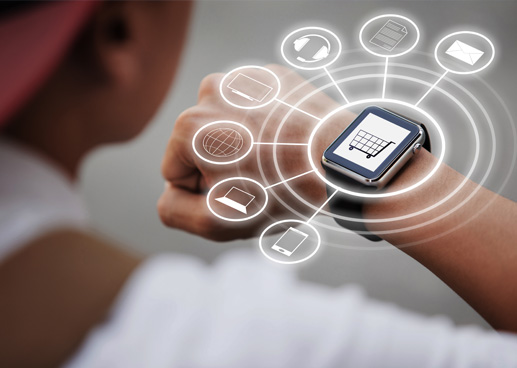 Beyond technology, transform the experience.
Disruption across all sectors of retail is unprecedented in scale and pace. The cause: blistering speed of technology adoption by established competitors, the unrelenting emergence of smaller, more nimble niche players and — topping all — increasingly fickle, frugal, informed and tech-savvy consumers.
The store of tomorrow is a full-service, connected hub, integrating web, social networks, and the supply chain. To stay competitive, retailers need to be equipped with intelligent and scalable technology to offer their customers a fast, seamless, personalized experience.
In the face of this unprecedented disruption, retailers understand that survival hinges on their ability to transform. RFID, IoT, unified commerce, mobile payments, mobile clienting, beacon technology, digital displays, home delivery, in-store pickup and real-time analytics are just a sample of the innovative technologies and processes retailers are investing in.
But beware: investing in innovation for innovation's sake, a trap many retailers fall into, amounts to little more than sticking a band-aid on a sucking chest wound. If it's not directly helping to provide customers an immersive, convenient and satisfying experience, no amount of technology investment will be enough to stave off disruption.
Moreover, one-off projects amount to little more than paying lip service to customer-centricity. In the end, only seamless integration of myriad technologies — connecting core systems to all customer touch points — will have a lasting and positive impact on the customer experience and, ultimately, a retailer's success.
Digital transformation in retail is much more than wielding the latest technology. True transformation is about capitalizing on the relationship between technology and customer behavior, and leveraging disruptive technologies to close the gap between the business and the customer. Closing this gap with customers should always be the critical lens through which all transformation projects are evaluated and measured.
The high cost of a bad experience.
According to the recent Salesforce State of the Connected Customer report, 80% of customers say that the experience a company provides is as important as its products or services, and 57% have stopped buying from a company because a competitor provided a better experience.
In their most recent report, Customers 2020: A Progress Report, the CX exerts at Walker estimate that by 2020 customer experience will be the most important differentiator between brands, overtaking both price and product.
It's difficult - if not impossible - to determine the cost of a bad reputation, but VisionCritical estimates the overall impact of bad customer experiences in the United States is more than $537 billion.
Since acquiring a new customer costs 5X-25X times more than selling to your existing base, poor customer experiences can easily keep your business from growing. Moreover, even a 5% increase in customer retention can increase profits by 25%-95% (as reported in HBR)!
CRM takes the title.
Success in retail hinges no longer on targeting demographic segments but engaging a specific customer personally. Let's take the example of Bob – age 30, lives in Denver, CO., loves fine chocolate, drives a 2007 Honda, and posts workout tips on Twitter. Leading retailers would do best to understand Bob --- focus on understanding customer behavior might translate to what Bob, at 30 likes to do; predicting purchasing trends might translate into identifying the particular brand of fine chocolates he likes and alerting his wife or girlfriend on his birthday; identifying new sales opportunities, might mean apprising Bob of the latest Honda models, maintaining inventory control, gauging customer sentiment, individualizing the customer experience, strengthening customer loyalty, and unifying multiple sales channels – for starters.
As consumers increasingly seek amped-up, immersive share-worthy experiences, retailers must harness an array of advanced CRM tools and stretch their imaginations.
According to Gartner, worldwide CRM software revenue reached $39.5 billion in 2017, surpassing DBMS to become the largest software market. Gartner predicts CRM will be the fastest growing software market in 2018.
Redesign the Customer Adventure with Salesforce and NTT DATA.
CRM technologies support four key enterprise capabilities: Salesforce automation, customer service and support, digital commerce and marketing automation. Salesforce solutions span these capabilities and more, enabling businesses of all sizes and across industries to better connect with customers and cement loyalty.
In fiscal 2018, Salesforce powered nearly two trillion B2B and B2C transactions across sales, service, marketing, commerce and more. Today's announcements further empower companies with new ways to deliver smarter engagement across every customer touchpoint on the world's #1 CRM platform.
Gartner named NTT DATA a Leader in its Magic Quadrant for CRM and Customer Experience Implementation Services, Worldwide.
As a recognized "Leader" for the second year in a row in Gartner's Magic Quadrant for CRM and CX Services, Worldwide, and one of only 10 Salesforce Global Strategic Partners in the world, NTT DATA is passionate about helping our customers attract and retain today's digitally-connected customers.
Over 15+ years we've successfully completed more than 3,000 Salesforce projects.
To help our customers better understand the challenges their customers face in doing business with them, NTT DATA takes a pragmatic, holistic approach. We begin with close analysis of the multiple touch points, interactions, functions and processes the customer experiences (directly or indirectly) in doing business with your organization. Armed with this honest and thorough insight, we work with you to re-imagine, in precise detail, what your customer experience should be. Only then do we re-design and implement a feasible, cost-effective, iterative plan comprised of innovative technologies and best practices to reduce customer friction and increase customer loyalty.
Contact NTT DATA today to learn more about how our CX experts and Salesforce expertise can accelerate your CRM journey.