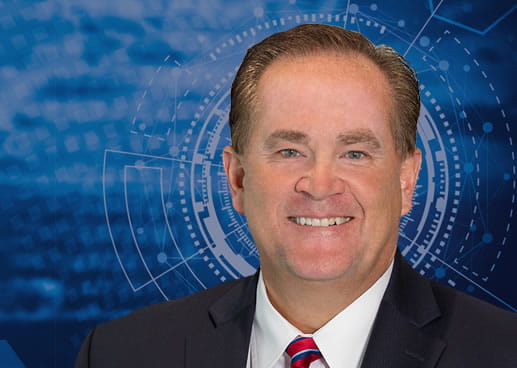 There is a titan among us. The honor of being called Corporate CIO Tech Titan was bestowed upon NTT DATA's CIO Barry Shurkey late Friday after the prestigious North Texas Technology Trade Association Tech Titans held their annual awards. The annual contest recognizes outstanding technology companies and individuals in the North Texas area who have made contributions during the past year locally, as well as to the technology industry overall.
During the 18-month period of the acquisition of the former Dell Services by NTT DATA, under Shurkey's leadership, the team successfully consolidated multiple technical systems and platforms across more than 40 countries. The integration included the migration of 37,000 email boxes, more than 23,000 laptops and desktops, 6,500 devices, 2,000+ service desk agents, 1,600 data circuits, 1,000 applications, 54 facilities, and 9 data centers.
"Being tasked with leading the integration of two global competitors was no small feat," said Shurkey. However, throughout the 18-month integration period, he credits the success to his "committed and talented team."
Mergers, acquisitions or divestitures are notoriously complex; several studies put failure rates of M&A as high as 50% as the new entity struggles with the harsh reality of aligning processes, technologies, infrastructure, and operations. However, one of the lynchpins of success is IT integration and a disciplined program for transaction planning and execution of the technology.
Shurkey's understanding of flexibility, innovation, and creativity enabled him to implement enhanced solutions to critical business applications. The program's success came down to several key factors. His team developed a robust and proactive communications plan under which they coordinated hundreds of thousands of client and employee communications with a very important caveat — no client downtime. This decision, ultimately, led to the proper continuation of all current and new clients during the period. Because getting IT right is a critical determinant of M&A success, companies should also have robust programs to manage security, take care of their employees and clients' needs, mitigate risks and, most important, help all employees embrace change via a change council.
However, disruptions and challenges are not uncommon during M&A; in fact, it is the rule rather than the exception. However, what's important for companies to do is to acknowledge that things are going to go wrong more often than not and arm themselves and their teams with counter plans. It's always better to recognize disruption early on — it gives you an edge over chaos and helps manage challenges better.
Shurkey began his part as the leader of the project in November 2016, the time of the acquisition. His role in management helped see NTT DATA establish itself as a top 10 global business and technology service provider. Shurkey paved the way to help NTT DATA aggressively expand business in North America and other regions.
Before joining NTT DATA, Shurkey was a group vice president for Travelport, where he led the solutions team that was responsible for new airline product development and running major systems for airlines. Shurkey was also the CIO at Vertex Business Services which provided IT services to over 10 million customers for more than 30 electric, gas and water clients across North America.