Bringing a Human Perspective to IT Through Diversity and Inclusion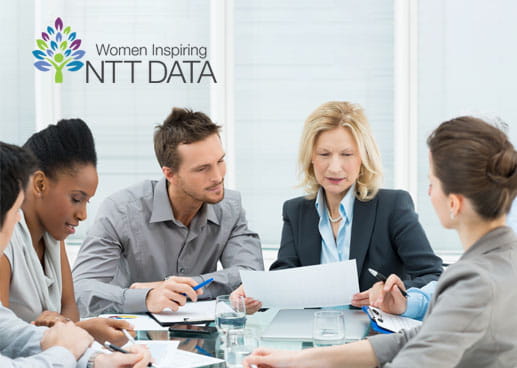 My relationship with NTT DATA Services began through the Carlisle & Gallagher acquisition in 2015. Up to that point, we had been a small, boutique business consulting firm focused exclusively on Financial Services. When we joined NTT DATA, our world suddenly included other industries, IT, and operational capabilities we'd hardly dared to dream of!.As NTT DATA Services we bring much more to our clients, and that's pretty cool! It doesn't hurt that the global scale of our operations give us the opportunity to serve our clients wherever they do business –—and I'm looking forward to my first international engagement!
I never sought a career in IT, but somehow IT found me. I've spent about half of my career in business consulting roles, and the other half I've spent in industry — building businesses from the ground up, leading strategy and sales organizations, and working directly with high-net worth clients in the wealth management world. The consistent thread for me has been to focus on the human element of the work we do. My specialty — and my passion — is People and Organizational Change, and that's one of the practices I now lead, along with PMO and Process Optimization. This human orientation means I often stand out in a crowd of my NTT DATA colleagues, many of whom are more focused on IT innovation. I believe we're most successful when we realize that it's only by taking care of the people, process, and technology that we help our clients achieve business success.
A continuous need for diversity
Being a woman in IT is not without its challenges. While NTT DATA is no stranger to innovation, it's also no stranger to the lack of gender diversity common in the IT industry. I hope to change that. While being an international company helps, we still lack diversity among our leadership team. That's what's exciting about the Women Inspiring NTT DATA (WIN) employee resource group. Through this collective we have an opportunity to raise awareness and make a difference by supporting the recruitment, development, and retention of women — leading to more women in leadership. So many organizations are committed to making progress in this area, and I hope that we can join them in open discussion and action around creating more gender and racial diversity. This isn't just a social cause, it's a business imperative. Our efforts in this area will directly support our success with our clients and against our competitors. I would love to see a stronger corporate commitment to diversity and inclusion — of all kinds.
When I joined Carlisle & Gallagher in 2014, there weren't a lot of women in leadership positions, and I don't think that's changed over the years. Or at least, not by much. What I did find was a leadership team that empowered people to create their businesses and lead in the ways that were most authentic to them. I found a place where I was encouraged, supported, and even told to go use my unique talent and perspective to not only make the world a better place for my clients, but to — most importantly — make the world a better place for my colleagues. In consulting, the most important product you have to offer is your workforce. Take care of your people, and you'll take care of your clients. If you miss the part about your people, then good luck with your clients!
Two immediate, game-changing actions
The real catalyst for me to drive the creation of WIN more broadly (and to launch the Charlotte chapter specifically), was what's happening with gender parity in the world around us. It's given me a heightened sense of the need to do a better job — a MUCH better job — for the women around me, both personally and professionally. I decided the very least I could do was to make my corner of the world better. And shame on me if I didn't do something NOW.
To that end, there are two things I'm most passionate about. One is educating our leaders about the business imperatives for increasing the representation of women in our business and especially in our leadership ranks. When we leave women out, we miss out on an incredible amount of innovation, intelligence, drive, and passion. Helping others understand why and how to make more room for women — and frankly all under-represented groups — just makes sense. The other is modeling behaviors for the women and men around me. I know from experience, there is, absolutely, more than one model of a successful consultant! We don't have to look alike, dress alike, work alike, or even connect with our clients in the same way. We need to be our authentic selves — it's the only way to be truly successful. I consider it my duty to show up as the real Kim Curley and to support my colleagues in every way I can.
A bright future
Am I allowed to say the future is so bright I have to wear shades? Right now we are just beginning to make space for diversity and inclusion. WIN is just the first of many employee resource groups. I'm looking forward to the day that passionate individuals have created and launched and nurtured many more groups than just WIN. In five years, I'd like to see more women in client-facing, profit-and-loss-leading roles within senior leadership; a full-time leader devoted to diversity and inclusion; and our name listed alongside our clients and competitors as committed to — and members of — prominent foundations and organizations driving these business imperatives forward.
Read what Toshio Iwamoto, President and CEO of NTT DATA has said about International Women's Day.
To learn more about WIN and #PressForProgress, check out this blog post by Mona Charif, SVP and CMO of NTT DATA Services, or the International Women's Day website.