Bridging the Gap Between Online and In-Store Shopping Experience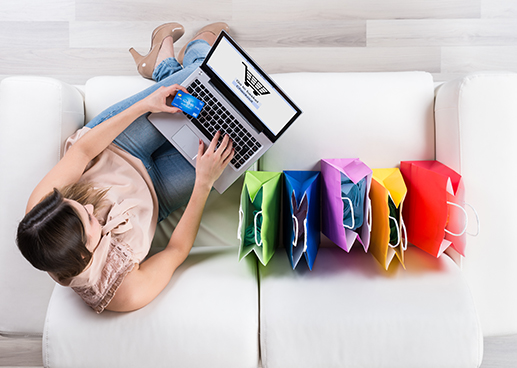 If you're like me when it comes to shopping, you want your buying experience to be quick and easy, whether it's in-store or online. Since Amazon has upped the ante on online shopping by offering lower prices, free two-day shipping, and easy returns, many competing brick-and-mortar retailers have responded by focusing mainly on the digital customer experience. However, what about in-person/in-store interactions? The latter remains as important as online transactions for many customers. Moreover, retailers need to find a way to connect the two seamlessly.
As a consumer, I've experienced first-hand the need for a bridge between the online and in-person retail experience. And as a marketing professional, I'd like to share my insight on what retailers could do to integrate the two experiences and ensure customer delight.
Getting online personalization right
Last year, as my pregnant belly started popping out of my skinny jeans, I had to give in and buy maternity clothes, so I indulged in both in-person and online shopping. Two things I discovered immediately: in-person stores had a lack of maternity clothes to try on, and online stores didn't help shoppers get the correct size. This situation meant that I needed to order two sizes and eventually return one. By adopting data and analytics solutions both these problems could be fixed easily — stores could ensure they have the right stock, and work with fitters to refine sizing charts with interactivity and personalization.
When it comes to personalization, many retailers' algorithms are not synced with their shopping carts, which often results in irrelevant ad displays. For example, when I purchased maternity basics from a popular online clothing retailer, the suggested additional items were regular-sized skinny jeans! The very item I needed to avoid. Irony aside, this was a missed opportunity for an additional sale that could have been mitigated by applying insight to the customer experience.
Connecting the backend to the front end
Often, the retail return process isn't seamless, especially between online purchases and in-store returns. As a consumer, this looks like a pretty straightforward ask: If you've purchased something online, why can't you go to the brick-and-mortar store to return or exchange the product? In theory, the store should have the record of your purchase.
The reality is quite different, as the retailer's backend is made up of physical infrastructure, several different applications and platforms that are accessed by multiple devices and networks across timelines. What retailers need is an integration strategy that pulls all of these seemingly disparate systems together, so the systems can communicate with each other quickly and efficiently.
Facing the brunt of a disorganized back-end system during the holiday season can be even more frustrating, but not uncommon because retailers lack solutions to manage the sudden spike in transactions.
My husband and I purchased new cookware online. We first checked Black Friday sales, compared pricing, and finally purchased the 14-piece set from a major department store. I completed the transaction, received my confirmation email, and was excited for the set to arrive before Christmas.
However, a week after I placed my order, I received an email saying my purchase was back-ordered but would still arrive before Christmas. Days passed, and my cookware hadn't arrived, so I checked my inbox. There was no new email. I then checked my junk mail and found several emails informing me that my order was canceled.
Unfortunately, this lack of post-purchase communication is common since email filters have become efficient. Stores must find a way to ensure communication regarding purchases successfully circumvents the spam filter and could also consider alternate means of communication, including text, social, chat or phone to ensure that the customer receives updates promptly.
When the retailer discovered that the item was not available, they could benefit greatly from investing in real-time inventory solutions, which show only in-stock items. Moreover, if the item is out of stock, retailers could offer the customer an alternate choice, honoring the price of the original order, rather than forfeiting the sale. All of this can be done with the correct data analytics solution.
Re-inserting empathy
While the right technology solution can help retailers make efficient sales, there is truly no substitute for prompt and courteous customer service. After I learned my cookware order was canceled, I called the store's helpline, and the customer service representative told me that I should have called them when I received the first email, instead of empathizing and apologizing for a lapse in communication. To make matters worse, I was put on hold, and eventually disconnected. The store never called me back.
By conducting regular training for their staff, retailers could re-insert empathy into the customer service process and reinforce the benefit of putting customer service representatives in the customer's shoes. Technology, coupled with empathetic service, can be the difference between an upset customer and a fan.
NTT DATA Services can help retailers get started. Our Customer Engagement team can help create a seamless, personalized customer experience across touch points and channels. Built on Design Thinking (empathy paths), our team can work with retailers to create development roadmaps that reduce customer friction.
After all, happy customers are the key to thriving retail business.