An Entrepreneurial Path to Recruiting, Retaining and Developing Women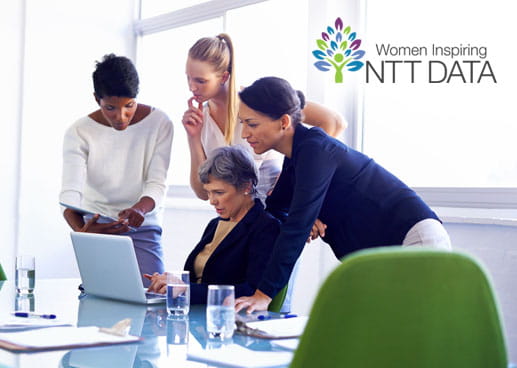 When I was in high school I thought I wanted to be a doctor. I ended up getting a job in a hospital pharmacy. Part of my job there was to charge patients for their medications, which was a very manual process that included using an old, green-screen computer. It took half my shift. So I guess you could say I started early when thinking of ways tasks like this could be automated. At the same time, I was looking at college and saw a recruiting message for data processing majors, and you had to take a logic test to be considered. I figured, "Hey, I am logical!" And I took the test. Needless to say, I did well, and the rest is sort of history. I graduated with Bachelor of Science degree in Computer Information Systems and started working in a traditional programming role, which evolved into IT leadership. I spent quite a few years in IT leadership before I was introduced to consulting by a friend. Once I started consulting I fell in love.
I happily pursued my entrepreneurial desires, and started my own management consulting business in Colorado. Over fifteen years, that business grew to a national practice. I met a lot of great business minds, worked on huge initiatives, hired a lot of people and grew personally. Last year, I sold my piece of the business to return to global consulting. Luckily that same friend who had originally introduced me to consulting told me of an open position at NTT DATA, which offered everything I was looking for – a global, complex environment, international customers, and a broad set of solutions I was interested in providing to customers while creating solutions that impacted their business in positive ways. Today I have the fantastic experience of working with a global team. The people of NTT DATA are extremely dedicated and committed to solving issues faster than I have ever seen. I am excited by our leadership, and the global scale of the company. Collectively, we have the ability to cover a huge amount of the technology industry with a wealth of solutions — something I am extremely passionate about!
A career goal and a surprising accomplishment
Working as a woman in IT has not been without it's challenges. Having been in the industry for quite a long time, I think gender inequality has existed my entire career. We lack a broad base of girls and women going into technology! And, as if by default, there's a shortage of women technology leaders. I have always maintained a goal of elevating women through mentoring, support and setting an example. While it certainly was not a career goal to break through barriers, I believe I have accomplished that – most recently inducted into my college hall of fame, and I willingly share my experiences with everyone — regardless of their gender.
For the past fifteen years, I have hosted women in leadership events in Colorado and Arizona. When I arrived at NTT DATA, I was extremely excited about being able to influence and support an organization with a global footprint. The Women Inspiring NTT DATA (WIN) employee resource group was a given for me. I quickly sought out our leadership team to understand what we were doing to improve gender parity, and volunteered to participate immediately. I believe in order for any organization to increase the number of women leading, hired, etc., we have to focus time and attention on that topic. WIN does that. Our initial goal of focusing on recruiting, retaining and developing women across the organization is not only exciting; it is necessary. There is credible research that proves that increasing the participation rates of women in leadership role leads to financial results, increased market share and greater innovation. I definitely want to be a part of that! WIN affords me a heightened sense of the need to do the best job I can for the women around me, both personally and professionally.
The WIN goal of developing women is what resonates the most with me. By starting WIN, looking for opportunities for mentoring women across the organization both in formal and informal ways is a great start. By opening up the conversation, it allows everyone across the organization to raise their awareness of the needs and specific challenges women may be facing. I have had the chance to see and hear what each of the groups across the company have been doing, and the results they have achieved. We have groups and entities where we have been able to increase our numbers to be in line with — or even better than — industry averages.
Inspired by action and activity
There is still work to do, and that excites me. In our organization, we can start by focusing on and elevating the presence of existing women in leadership roles. We can create opportunities to participate in new strategies, customer engagements, process improvements, communications improvements and especially creating mentoring opportunities with stretch goals. From there, focusing on our recruiting practices — in technology particularly — requires more effort to find enough female candidates. Once we increase those numbers of female employees, it is all about mentoring and retention of women during their career so they feel supported. I am a believer that if people feel the support around them through programs that address their concerns, we will see obvious results.
In our group we have opened up the conversation with a monthly call. Our division is fairly dispersed, so we leverage online communication portals, regular connection points, and speakers to help us understand what they have done to elevate their organizations. I personally continue to provide support and open communication across the division to address what is most important to our team in an effort of expanding that conversation. I will take every chance I have to create opportunity.
My organization will embrace mentoring, sharing and supporting best practices for diversity and inclusion. I have had the chance to talk with our global counterpart that have the ability, leadership, enthusiasm and willingness that matches mine. It feeds my belief that we will move NTT DATA forward in our efforts to inspire all women across the organization. Five years from now I would love it if the outlook looked so good for women in leadership and technology that we no longer needed special focus groups to help propel us to that next place. It may take the world around us longer than that, but I know we can be part of creating the right path to get us there.
Read what Toshio Iwamoto, President and CEO of NTT DATA has said about International Women's Day.
To learn more about WIN check out these previous posts:
To learn more about #PressForProgress, visit the International Women's Day website.