The Five Imperatives Health Plans Need to Consider for Enabling Growth While Improving Financial Health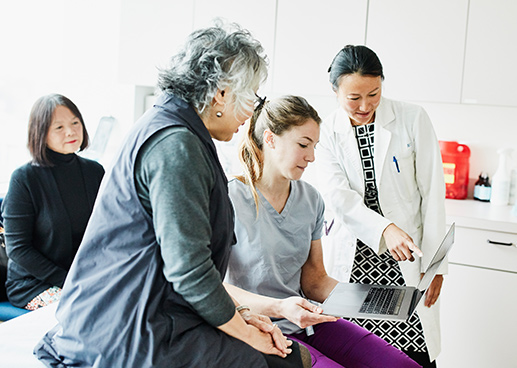 How can health plans address and overcome roadblocks to providing the much-needed new digital consumer experience?
At NTT DATA, we recommend five imperatives health plans need to consider, enabling their growth while improving their financial health. In addressing these essentials, they can transform their businesses and remain debt-free.
1. Enhancing the member and provider experience
In today's ever-evolving, digitally enabled, fast-paced world, members and providers demand an integrated, seamless experience with straightforward, clear communication and guaranteed confidentiality that allows them to make better-informed healthcare decisions. All too often, however, members and providers are greeted with ongoing frustration as they attempt to use the services they need, finding instead:
An inability to access the information they need, when they need it, from any location on any device
Difficulty to perform even the most straightforward task on web-based or mobile platforms
Inaccessibility of crucial and important information, such as claims, benefits and prescriptions
Lengthy or multiple calls with call center agents to resolve issues and get answers
Continual issues with claims, payments and covered benefits
These experiences leave members and providers aggravated and dissatisfied. Even so, these unsatisfactory encounters are widespread in the healthcare industry and play a vital role in decision-making for members and providers as they determine whether a health plan is worth their time and money. Companies that overcome these challenges and provide a better-than-standard experience are the companies that thrive, grow and succeed.
2. Addressing Medical Spend management and administrative costs
Medical Spend Management is a huge issue facing health plans today. Medical Spend Management is measured as a percentage of premium dollars spent on care versus administrative costs, known as the Medical Loss Ratio (MLR). For example, if a health plan does not spend 80 - 85% of the premium on care, they are required to pay a rebate to the policyholders, which means revenue loss and a direct impact on business performance.
An important factor of MLR is detecting and reducing fraud, preventing waste and stopping abuse of prescribing treatments. To do so requires improved integration of provider and payer systems, the ability to provide real-time, insightful analytics on personalized patient care, innovative payment models and timely, accurate communications between all parties — all of which can reduce fraud, waste and abuse, and, therefore, reduce spending. The administrative cost is also a factor, but one that is easier to understand and address.
Administrative costs often increase with expansion into new markets or new coverage plans, along with changes in healthcare regulations, recent acquisitions and internal efforts to improve capabilities. Understanding and automating workflows, streamlining claims processing, communicating in a timely and precise manner, and having a 360-degree view of members and providers is critical in measuring the business's financial health.
3. Understanding data and analytics is a new asset
Many health plan organizations have useful pockets of automation and healthcare analytics tools, but it may not be enough. Obtaining a complete, comprehensive view of their overall business, member health, provider performance, and the outcome of the care administered is the only sustainable way to deliver value-based care.
Delivering better patient care and outcomes requires fully automated processes that send actionable reporting from treatment analytics to the appropriate person. With this approach, actionable reports reach their destination more quickly and help kick-off meetings, resulting in new, uncovered opportunities. Integration is necessary across systems and channels to successfully implement this process, as are:
Understanding where the process impact lies and possible bottlenecks,
Determining where to deploy bots automatically,
Employing predictive analytics to identify key trends and members who need medical intervention.
While such a change in procedure may seem like it would require a variety of resources and qualified IT personnel, which for many companies can be a costly and lengthy endeavor, it's not impossible with some strategic planning. The right plan may even return that investment.
4. Overcoming Automation Anxiety
Transformational change — particularly concerning automation — affects the organization at every level. With a shift in workflow comes uncertainty, and multiple discussions and evaluations of the implementing bots are expected. As the bot learns and adapts to the process, health plans typically find more efficient ways to complete tasks, resulting in more process changes for their employees and the bot to adapt to. This constant revision cycle can lead to "Automation Anxiety," in which a shared feeling of apprehension can slow the whole technology adoption process. Progress may also slow due to:
Failure to understand the risks of implementing or analysis paralysis
Concern regarding security and control of data
Fear that the proposed solution will not be able to adapt to future business requirements
Unease about losing control of operations or processes
Apprehension that the proposed automation won't succeed or stay relevant
Worry about the impact on employees
It is important for everyone involved to understand that automation can increase productivity and revenue with the same number of employees, resulting in more profit. While each circumstance is unique, managing change and addressing cultural and relationship barriers in the workplace are of the utmost importance in any transformational journey. When obstacles are overcome, businesses can grow and go forward successfully.
5. Growth and business performance
Health plans are under tremendous pressure to provide improved, more affordable care, drive value-based care and maintain projected margins and profits. However, even if a health plan is non-profit, they are still required to meet specific goals and objectives.
Membership growth is the most obvious approach, but many health plans want to expand their reach into new markets or new lines of business. Unfortunately, these health plans can experience many disruptions when entering a new market or line of business. Often, they find the move is cost-prohibitive, given the impact of updating legacy systems.
In addition, regulatory changes often result in system-wide impacts as pay-for-service migrates to outcome-based pricing. Gaining insight into business metrics requires a full suite of analytics and integration across existing systems. Ultimately, growth depends on adopting new technology that can adapt over time and build upon itself.
For many, the five imperatives may seem obvious and even simple to overcome, but they've yet to get started. The reality is: implementing each of these essentials can become costly, take more time than anticipated and require a large resource pool — performing this implementation in-house or with point solutions can break the bank. Yet, partnering with an end-to-end service provider with a digital platform solution that is flexible, open, secure and aligned to your specific size and business outcomes is the easiest, fastest and most cost-effective way to conquer the digital divide.
Our Digital BPaaS solution can help health plans solve these common root problems effectively. From improving the member and provider experience to gathering the much-needed data to make better business decisions, the Digital BPaaS solution's positive outcomes can be measured and improve the bottom line.
NTT DATA's Digital BPaaS is outcome-based, modular, configurable, and an open component architecture solution that brings together a curated set of partners and solutions along with an admin platform and a data lake/platform to enable futuristic AI capabilities in improving patient outcomes.
The fully integrated core platform is driven by data analytics, artificial intelligence (AI), and best-in-class industrialized business processes. It empowers health insurance executives to increase operational efficiency, drastically reduce administrative costs, maximize return, reduce penalties, increase rating scores, proactively reduce fraud, identify leakage, improve member engagement and more.
Learn more about how NTT Digital BPaaS can help health plans.