S/4HANA — A Smart Move for Manufacturers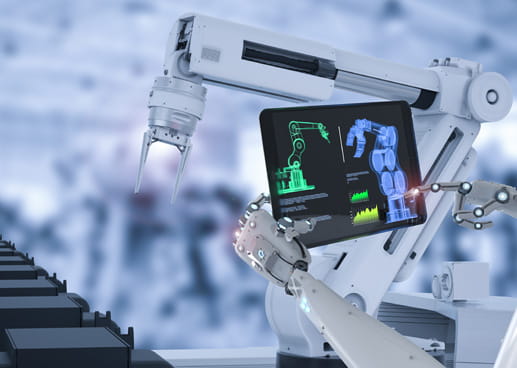 Manufacturer disrupted
An uncertain macro-economic and geo-political climate, Brexit, trade wars, ever-changing regulations, complex, global supply chains, fierce global competition, skilled labor shortages, demanding customers and ever-shifting customer tastes … welcome to the world of manufacturing, a dynamic, volatile, pressure-filled sector during the best of times.
Add to this the torrid pace of today's digital revolution, and it's no wonder that 'transform or die' is the prevailing mindset among manufacturing executives. According to a recent study by Fujitsu, 90% of manufacturing professionals report the sector has already been impacted by digital disruption, 95% admit their business needs to evolve to thrive, 90% believe the industry will fundamentally change by 2021, and 52% say their business will not exist in its current form in five years' time.
Suffice it to say that for manufacturing today, change is the only constant, disruption is inevitable, customers are in control and the stakes are high.
IIoT & smart factories (the disruptors of manufacturing)
Smart factories, the disruptors of manufacturing, are coming — and a pace faster than expected just a few years ago. Using embedded sensors and integrated software to collect and analyze massive volumes of plant operations and supply chain data, smart manufacturers can create real-time adjustments that not only change planning, procurement, operations and maintenance for the better, but also pave the way for new business models and revenue streams.
In the smart factory, resources and processes across the entire value chain are automated, integrated, monitored and continuously evaluated based on all available information. And in doing so, factories are transformed from cost centers into sources of innovation, sustainable competitive advantage and profit.
Today's connected factory is already unrecognizable from its industrial past and leading manufacturers are making bold investment bets to keep up with the rapid pace of this change. As reported in Forbes, one leading analyst firm notes that 76% of manufacturers either have a smart factory initiative that is ongoing or are working on defining one.
While survival is certainly a strong motivator in and of itself, measurable and meaningful increases in productivity and revenue are also driving smart factory investments. According to IDC, as reported in Forbes, smart factories will enable a 7X increase in overall productivity by 2022. Moreover, they have the potential to add $500 billion to $1.5 trillion in value to the global economy in five years. Yes, that is trillion.
It all starts with harnessing the power of big data surging through today's manufacturing operations. Powering smart factories are technologies, such as cloud, mobile, robotics, social and business networks, RFID, embedded sensors, blockchain, industrial Internet of Things (IIoT) and big-data analytics, among others. However, leading the race for today's smart factory is Industrial Internet of Things. Implementing an IIoT solution designed to help manage predictive maintenance and analytics as well as remote monitoring can help manufacturers monitor and analyze their data in real-time and help predict when maintenance of an asset is required. As a result manufacturers can move from repair or replace maintenance model to a predict and fix model.
Big spending on IIoT is happening now and will continue for the foreseeable future. IDC reports that 29.4% of discrete manufacturers have already deployed an IIoT solution. The rest plan to launch one in the next 12 – 24 months.
Transition challenges
No one ever said transformation was easy. In fact, for manufacturers, transitioning to digital enterprises is proving particularly difficult. According to IDC, by 2018 just 30% of manufacturers investing in transforming the digital operations of their business will reach their full potential; the majority will be constrained by outdated business models and dated technology.
Standalone legacy, homegrown and even paper-based systems is the manufacturing environment norm. This hybrid landscape has evolved through company acquisitions, divestures, product expansion and specific process/system requirements, creating a complex, cost-intensive environment. But maintenance of outdated IT architecture requires time and money, keeping IT from focusing on what truly matters: the modern digital initiatives that produce a competitive advantage.
Another challenge is harnessing the power of big data. The promise of big data is both compelling and straightforward — crunch large data volumes (operational, transactional, structured, unstructured) to unlock insights (correlations, trends, outliers, etc.) that inform timely decisions that boost efficiency, the bottom line and competitiveness. The majority of today's manufacturers are drowning in data but starving for insight. Despite all the data that factories collect, up to 73% of the data collected on the manufacturing floor goes unused, reports Forrester.
Security concerns go hand-in-hand with any transformation initiative, including migrating to S/4HANA. In S/4, security is different from traditional SAP security. In the classic three-tier architecture, the database layer was only accessible via ECC (processing/application) layer. In the S/4HANA solution, the database layer is extended with an application functionality. This change has a significant impact on security, as it now applies to the database as well as the application layer. Companies require a comprehensive threat analysis to provide security IP protection as they expand into the digital landscape, including network and communications security, user management, authentication and single sign-on, authorization, data storage security and more.
The need for a digital core
The possible applications of advanced digital technologies in manufacturing are almost endless once the right digital core is in the place. And therein lies the greatest challenge.
In the past, Operational Technology (OT) and Information Technology (IT) were separate domains, staffed by experts with limited knowledge and understanding of their counterpart's requirements. However, successfully transitioning to a smart factory demands that this siloed approach be dismantled and replaced with a unified infrastructure and digital core that treats the different elements of OT and IT as complementary cogs within the same process wheel.
Moreover, transitioning to a smart factory requires much more than a series of piecemeal, digital one-offs. Transitioning to a truly smart factory demands a holistic plan that spans and connects all facets of business—from sensor enablement, factory optimization, supply chain management, product lifecycle management, workforce management, and sales in a highly collaborative manner on a tightly integrated digital core.
S/4HANA for smart manufacturing
Manufacturers need an IT foundation that provides the visibility, accuracy, speed and insights needed for smart manufacturing. This core must enable digitized, mission-critical processes on a single source of real-time information that interconnects all aspects of the value chain, including core manufacturing operations, workforce management, assets and the Internet of Things, supplier collaboration and business networks and more.
To help mitigate these challenges, SAP designed SAP S/4HANA as a digital core, a single holistic solution that encompasses enterprise planning, manufacturing execution and service. SAP S/4HANA enables unprecedented harmonization of planning and execution processes with the capacity to connect Internet of Things (IoT) devices to automatically respond to fluctuating signals, as well as to provide predictive indicators for preventative maintenance and product service.
SAP S/4HANA enables you to react quickly to variable market demand, predict operational issues, and improve manufacturing performance by streamlining and integrating the entire lifecycle — from planning and scheduling, to sequencing and execution, to analysis. With SAP S/4HANA providing the most current information on demand, manufacturing processes, resources, and capacity are tightly aligned to market, and customer demands to ensure optimal production efficiency and profitable and timely delivery of products. The holistic, single-source solution provides the optimal transparency and capabilities for end-to-end analysis.
The world of IIoT will enable and accelerate business process change, but only if the enterprise can manage how devices are connected, capture what the sensor data is saying, and understand the ramifications for the business. SAP Leonardo and SAP S/4HANA make this possible. SAP Leonardo, SAP's new digital innovation system, enables rapid innovation to help SAP customers re-imagine their businesses. With its portfolio of capabilities — including SAP Leonardo IoT, SAP Leonardo Machine Learning, SAP Leonardo Analytics, SAP Leonardo Big Data, and SAP Leonardo Blockchain — SAP Leonardo powers a digital approach to manufacturing, both on premise using the SAP HANA platform and, in the cloud, using SAP Cloud Platform, SAP's cloud-based development platform. SAP Leonardo ties together a connected network of people, processes, and things, and applies business context to the real-time insight generated from this network.
In addition, S/4HANA provides a collaborative platform that enables you to use your core ERP in combination with cloud-based applications in order to interact and integrate with external parties such as customers (via Hybris) and suppliers (via Ariba). It also supports a range of user-friendly interfaces (SAP Fiori) and provides the possibility to link your machines and IIOT (e.g. through HANA Cloud Platform).
For manufacturers, SAP S/4HANA offers organizations a digital core ERP that can bring even more clarity to finance, realize even more value throughout the supply chain, engage customers more meaningfully, empower the workforce in new ways, and leverage analytics to get new insights for decision making across the enterprise, all on a secure digital platform.
Caveat manufacturer — partner experience is vital to S/4HANA success
Adopting S/4HANA is not a traditional upgrade or a mere technical project; it is a full-scale digital transformation initiative.
Every S/4HANA migration is unique. Each organization starts with a different system configuration and has different goals, so there is no one right way to go through the process.
Strategic migration to S/4HANA will be an extensive journey that necessitates the support of a leading IT service provider such as NTT DATA. Our diverse a portfolio, from proven S/4 HANA experience, cloud deployment, security evaluation and support to manufacturing domain expertise, enables the NTT DATA to remain as a trusted advisor to current and future clients. Through our S/4HANA Assessment approach, our core team will guide your organization through the journey, providing deep technical and business-process expertise, proven industry experience and a structured migration methodology. Combined with an ample repertoire of proprietary tools and accelerators that mitigate risk, reduce project cost and duration and speed time-to-value throughout all phases of your S/4HANA migration.
Contact NTT DATA today to begin or advance your S/4HANA journey.