Turn Product Ideas into Tested Prototypes in 3 Weeks
Use our Rapid Product Validation Workbook to condense months of product research, design and validation down to just three weeks.
We're sharing a step-by-step process we've developed working with clients who need to move fast and fail small. Now your team can use our process to get your MVP to market and obtain immediate customer feedback to inform your product development.
Written by David Schell, one of our product design experts at Launch by NTT DATA, this guide may be the catalyst you need to turn your product vision into reality. Follow our steps with your team and you'll finish with a user-tested prototype. Share the prototype and feedback to get the financing you need to develop a product that'll result in new revenue streams and improved customer engagement.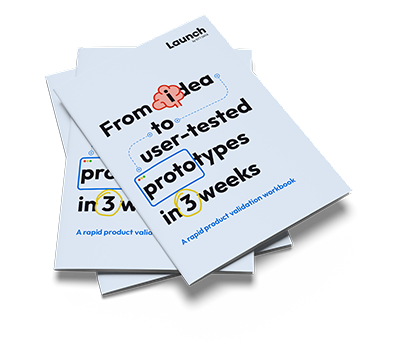 You'll learn how to:
Validate whether your product idea is viable
Calculate potential ROI and develop a product value proposition
Condense months-long research, design and validation into just a few weeks
Create a step-by-step process to run your own three-week product design sprints
Build a business case and get buy-in for the budget you need to move forward