New Research: Banking on AI to Help Customers Reach Their Hopes and Dreams
What attracts customers to banks and wealth management firms and makes them want to stay? NTT DATA surveyed nearly 5,000 consumers and 500 financial services executives in eight countries to find out.
We found that 35% of Gen X and millennial customers want hyper-personalized services to help them meet their life goals. And they're willing to share their personal data and pay more for those services.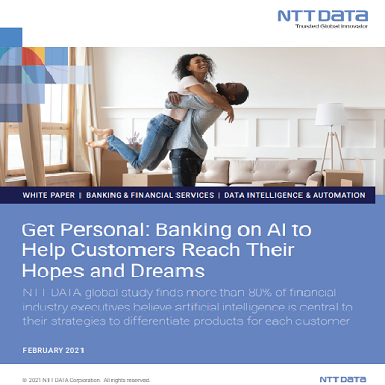 Other key findings include:
57% of these "Futurist" customers would leave their financial institution (FI) to get personalized proactive services elsewhere.
93% of FIs agree that offering personalized services is an opportunity for growth.
Only 16% of FIs are leveraging data and AI to provide these specific recommendations to each customer.
NTT DATA believes the future of banking is hyper-personalized. But are FIs up to the challenge?
Our global research reveals:
How personalized proactive services offer an opportunity and where FIs are on the journey
What an AI-enabled bank of the future will look like
Why partnering is key to execute hyper-personalized initiatives