How Enterprise Platforms Are Driving Digital Transformation with Hyperautomation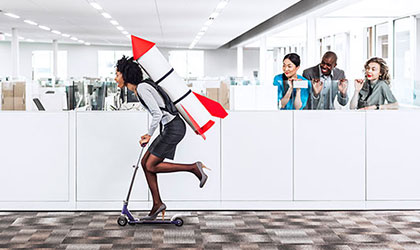 Hyperautomation, and the technology behind it, is garnering increasing attention from business executives because it can significantly improve their organizations' efficiency and productivity. This first article in a two-part series explains how hyperautomation is becoming an emerging driver of successful digital transformation efforts. Part two will drill down into the individual components of hyperautomation.
What is hyperautomation?
Hyperautomation is the use of advanced technologies, such as artificial intelligence and machine learning, to automate processes and tasks. This approach to automation goes beyond traditional automation tools, using a combination of technologies to achieve higher levels of efficiency and productivity. Hyperautomation can be applied to various industries and processes, from customer service and support to supply chain management and financial analysis.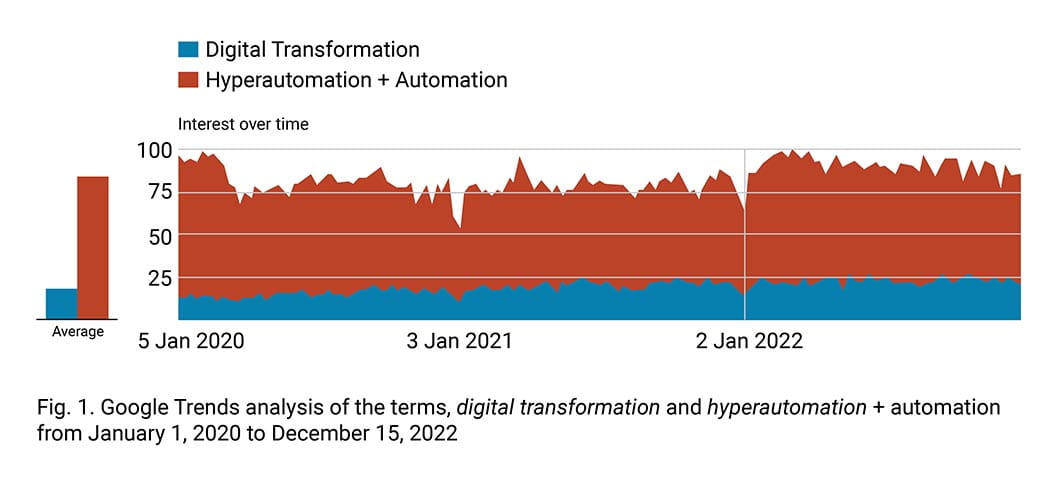 By using advanced technologies to automate processes and tasks, organizations can reduce the time and resources spent on manual, repetitive work and instead focus on more value-added activities. This process can help organizations save money, reduce errors, and improve the overall quality of their products and services. Additionally, hyperautomation can help organizations stay competitive in today's fast-paced business environment by allowing them to adapt quickly and easily to changing market conditions. By embracing hyperautomation, business executives can position their organizations for success in the digital age.
How did we get to hyperautomation?
At NTT DATA, we refer to the modern SaaS platforms as configured platforms. A configured platform can have several definitions in various contexts. We prefer to define configured platforms as the combination of cloud computing-based software platforms (PaaS or Platform-as-a-Service) and enterprise applications known as SaaS (Software-as-a-Service). ServiceNow, Salesforce, Oracle Cloud, SAP's S/4 HANA, and Microsoft's Power Platform are the best examples.
Enterprise SaaS platforms have been the fuel driving the hyperautomation trend. They have been a key driver in many organizations' digital transformation efforts since 2013. It also coincides with the accelerating adoption of cloud computing in the enterprise, particularly market leaders such as AWS, Salesforce, and Microsoft.
Enterprise SaaS platforms evolved from two approaches to cloud computing that have since been combined: PaaS and SaaS. Fig. 2 illustrates this in a technology stack diagram. In PaaS, all you had to do was "bring your own app," while SaaS required you to "bring your own users." Both stacks may have evolved separately at their inception, but the innovations in the middleware layer (red boxes in Fig. 2) over the last five years have been the source of the hyperautomation growth.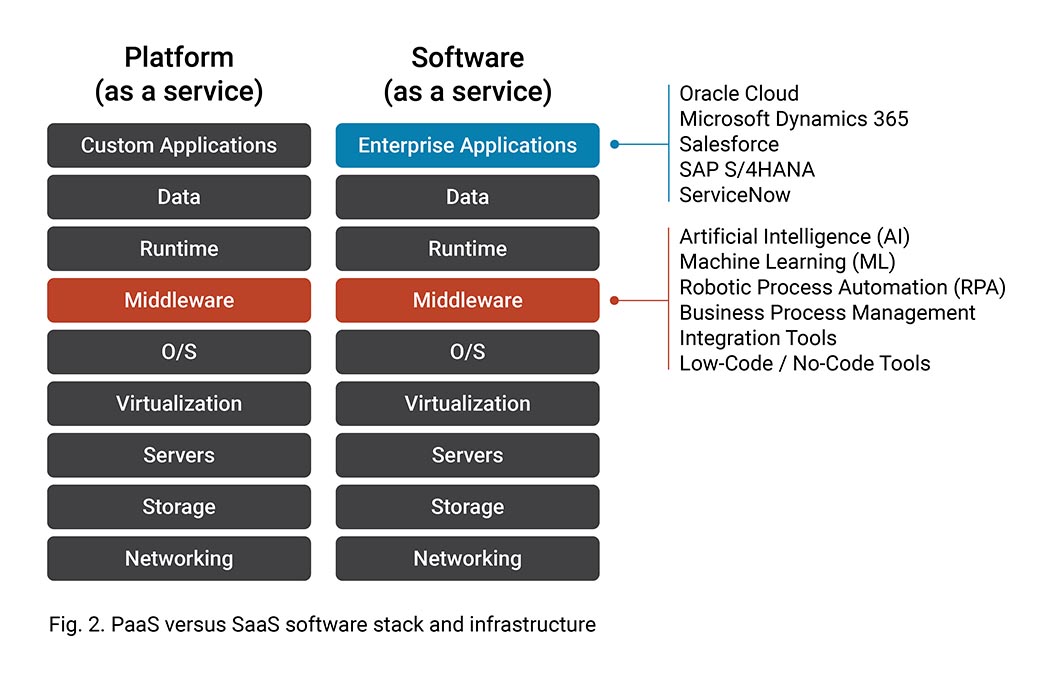 How is hyperautomation different from standard automation?
Hyperautomation goes beyond basic task automation by introducing powerful tools that make creating complex rules-based decisions easier. It employs low-code/no-code software development tools that make creating the code behind this automation much simpler and faster. Hyperautomation introduces expanded capabilities, such as process mining with machine learning (ML) and artificial intelligence (AI). These capabilities transform business processes and help create new ones that otherwise would have been impossible using simple automation capabilities.
Some common tasks and processes that make good use cases for hyperautomation include:
Account Payable (AP) – often involves manual tasks that are easily automated
Claims handling – automate the whole process without human intervention
Order to Cash (O2C) – examples include hyperautomating new orders, order updates, and order cancellations
Customer service operations – automating customer calls or inputs, auto-classification, and routing of calls
Underwriting processing – many possible manual steps insurers can easily automate
Customer onboarding – involves document-heavy processes that can easily be automated with hyperautomation
With hyperautomation now on your radar, make it your business to understand how this set of technologies can accelerate your digital transformation efforts. Hyperautomation is a prevalent subject and a market that continues to experience rapid growth. Gartner® forecasts that the spending on hyperautomation-enabling software technologies will reach $720 billion in 2023.* In a digital-first world, hyperautomation will be a key factor enabling enterprises to achieve operational excellence and significant cost savings.
Reach out to us to discuss how we can employ hyperautomation using enterprise SaaS platforms to fuel your digital transformation.
*Gartner, Press Release, Gartner Forecasts Worldwide Low-Code Development Technologies Market to Grow 20% in 2023, December 13, 2022 GARTNER is a registered trademark and service mark of Gartner, Inc. and/or its affiliates in the U.S. and internationally and is used herein with permission. All rights reserved.