Experience the future of business with Salesforce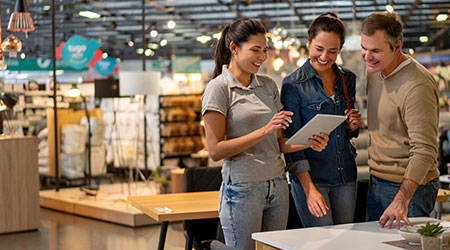 A massive pivot to AI-powered experiential interactions
Despite a certain level of economic uncertainty, organizations and consumers across the globe are no longer operating in survival mode. A growth mindset has superseded a business continuity mindset. In our second Innovation Index report, based on a survey of 1,000 business and IT executives across 16 industries, we found that 51% of executives indicate business growth as their organizational priority over the next two years. AI is one area where most organizations are placing an emphasis on shaping the future of business. 93% of executives expect AI to be in common use within the next two years.
We are at an interesting juncture wherein every organization wants to leverage AI to cater to fast-evolving client expectations. Websites and mobile apps, which were secondary, add-on client touchpoints earlier, have now become primary channels of interaction. The need of the hour for organizations is to understand these channels and deliver the hyper-personalized experiences that consumers expect. Delivering such digital experiences with speed and resilience while dealing with inflationary pressure, potential recession and geopolitical discord creates an opportunity.
Key expectations of consumers
Hyper-personalization of products/services: Hyper-personalization is about how deeply you know your customers individually and offer them experiences tailored just for them. It goes beyond using their names and demographic records. Organizations can't push random advertisements and promotions across channels and expect customers to act. Customers now expect brands to leverage the data that the former has provided or generated and receive the right products, services, solutions and promotions tailored only for them. Customers want to see highly personalized homepages that reflect recommendations, offers and notifications based on their preferences as well as past purchasing behavior.
Speed and quality of service: In today's hyperconnected world, websites and mobile applications are the basics of a digital experience. Irrespective of the level of their technology skills, customers from all segments want user interfaces that are intuitive and free of points of frustration. They look for seamless interactions with fast loading times, applications that are responsive across devices as well as platforms, quick responses to queries and timely resolution of issues. All customer touchpoints must be integrated with enterprise applications across partner ecosystems to deliver a secure, seamless and continuous experience. At the same time, experiences need to be improved proactively and continuously.
Digitally trusted experiences: Customers have become sensitive about the information they're willing to share and how their personal information is processed or used. They want to feel safe with the organizations they interact with from a data privacy standpoint. According to recent surveys, the majority of consumer respondents believe that the companies they do business with protect their data. It becomes an organization's responsibility to build experiences that are secure by design. Even small cybersecurity incidents can result in the loss of customers who stop engaging with a brand due to data security reasons.
Salesforce as a solution to build experiences for the future across different industries
Insurance: Life and Annuity insurers now need to develop new-age digital experiences to promote a healthy lifestyle among insured members to reduce hospitalization and minimize the need for claim payouts. Salesforce has augmented Financial Services Cloud by combining the industry-specific capabilities of Salesforce Industries (formerly Vlocity). NTT DATA's proprietary framework Global Insurance Digital Platform (GIDPtm) stitches together best-of-breed component-based architecture, connections, process mapping, automation tools, forms and compliance solutions. Front office services are enabled by an intelligent contact center, which allows agents to elevate customer experience by addressing queries through global search, faster verification, unified desktop view and transaction/process management. The middle office layer is powered by various standard and custom microservices related to products, policies, quotes, payments, applications, approvals, claim settlements and so on.
Healthcare: Providing personalized healthcare services has become a necessity for health plans and providers alike. Members today expect an omnichannel, personalized experience with health insurance companies, while insurance providers strive to get a 360-degree view of members at every touchpoint. Health plans can provide personalized care to members without any complex custom code using a rich user set of out-of-the-box business processes, an insurance-specific data model, guided navigation flows and click-based integrations. Health plans can take charge of their members' healthcare journey with Salesforce Industries. Agents can have health-focused conversations with members by leveraging the Salesforce Member 360 platform, which provides them with a dashboard view of member records, medical history and claims to focus on having health-focused conversations. Salesforce Einstein allows providers to identify high-risk members and prioritize their healthcare needs. This platform can help case managers process authorizations, view complete patient records, check medical/non-medical events and coordinate with case managers.
Automotive: Together, the capabilities of AI, Data and CRM can help automotive companies elevate the consumer and dealer experience. They are now empowered with a complete view of the customer as well as vehicle lifecycle. Salesforce recently introduced innovations in Automotive Cloud. Automotive Cloud Intelligence will be powered by Salesforce Einstein AI and CRM analytics will help auto makers become more profitable by offering them real-time insights into vehicle inventory and dealer performance. They can improve decision-making using features such as Parts Forecasting, Lead Scoring and Inventory Analysis.
Deeper relationship management
Designing trusted experiences for the future isn't a one-off initiative. It takes a consumer-centric mindset, and a change in the culture, processes and technology across an organization to cater to the ever-changing needs of consumers. Customers want brands to empathize with them and understand their values. Experiences need to feel like one-to-one relationships with customers wherein technology is used as a tool to accomplish your business goals. Also, an organization can significantly improve customer lifetime value if it converts data into knowledge and knowledge into actionable insights at a faster pace with the help of a CRM platform powered by AI-led analytics. Bringing AI + Data + CRM together helps customers experience magic and is the future of your business.
NTT DATA is recognized as a Leader in the NelsonHall Vendor Evaluation and Assessment Tool (NEAT) for Salesforce Services, 2022. Reach out to our Salesforce experts to discuss how we can turn your routine transactions into engaging customer experiences.