The Current State of the Cold Chain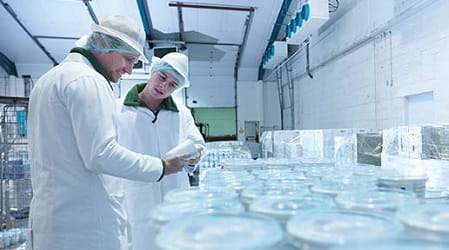 Cold Chain: an introduction
Over the last two years, vaccine distribution, food supply shortages, and increased in-home deliveries have brought cold chain discussions front and center. Changes in consumer preferences and the growing popularity of e-commerce mean that the cold chain is here to stay. Around the world, rising healthcare standards, healthier food choices, and growing middle classes demand an efficient and intricately linked cold chain to ensure temperature-sensitive products reach the end consumer fresh and on time.
Cold chains — supply chains specializing in the planning, storing, loading, and movement of temperature-sensitive products — encompass various products. Everything from food to over-the-counter beauty products, pharmaceuticals, vaccines, and more must be transported at specific temperatures and via fixed timeframes. Further, cold chains face not only the same difficulties as other supply chains (i.e., port congestion, cost pressures) but additional challenges in heavy infrastructure investments, temperature monitoring, strict regulations, and a shortage of qualified and skilled workers.
Over four articles, the study team will examine a series of topics about cold chains and their applications.
Cold Chain today
Cold chain is one of the fastest growing markets globally, driven by industries that are becoming increasingly reliant on cold chain innovations. Cold chain accounted for $248.4 billion in 2020 in the U.S. alone and is expected to exceed $410 billion by 2028. This growth has been driven partly by demand for healthier foods high in proteins, vitamins, minerals, and fats and must be transported within specific temperature windows. Additionally, the growing number of clinical trials in the U.S. use temperature-sensitive materials, such as tissue and blood samples, further spurring cold chain demand and innovation.
Given such growth, cold chains today must account for demand increases and find new and innovative methods to store and transport their products correctly. Some of the challenges facing cold chains today include:
Globalization: Healthier, temperature-controlled food is becoming more popular not only in the U.S. but in many countries around the world. According to supply chain traceability manufacturer SpotSee, growth in the global health and wellness foods market is fueled by a rising focus on healthy eating, the growing popularity of organic foods, and increased food sensitivity. Regardless of its origin, fresh food is expected to arrive quickly and at the highest degree of freshness. Cold chains must ensure that every link in their supply chain is functioning efficiently and effectively to meet this demand and minimize spoilage.
Regional restrictions: The increased globalization of today's cold chain also requires following varying regulations imposed in different regions and countries. Because cold chains deliver a wide variety of products to myriad industries, there is no "one size fits all" solution to handle regional regulations. Cold chains are also primarily held accountable to stricter regulations than traditional supply chains. Companies must have a thorough knowledge of country-specific transportation rules and regulations to expand their cold chains globally.
Ongoing labor shortages: Food retail stores were heavily impacted by the COVID-19 pandemic and created wasteful labor. Many stores became break-pack areas, where products would be placed directly on a shelf, then taken off and placed in a tote waiting for the customer, resulting in a highly labor-intensive process. To complicate matters further, many retailers needed to hire inexperienced warehouse workers for open positions, many of whom were not adequately trained in cold chain processes and products. With labor shortages anticipated to continue throughout the supply chain, many cold chain companies are looking toward automated solutions to improve efficiency and retain existing talent.
Inventory visibility: Low inventory visibility is especially detrimental in today's fast-paced and constantly shifting supply chain. Warehouses and retail stores produce massive amounts of data and information daily; however, creating interfaces to access and interpret all this data and information can be challenging, especially when it involves multiple different software platforms. This marks a significant opportunity for software companies to develop platforms that connect disparate data sources and offer them as a unified solution, especially to small and midrange companies. Connecting real-time data from every warehouse, truck, distribution center, and more will help organizations get complete visibility into the cold chain from end to end.
Looking ahead, changes in consumer behavior and new purchasing preferences have become the new normal in many parts of the world. Today's cold chain is positioned well to meet the rising demand and increased globalization of its operations. Moreover, today's cold chains can help establish new standards of precise transportation and seamless product deliveries that serve as benchmarks to measure other areas of the supply chain.
If you would like to learn more about the current state of cold chains, we invite you download the 2023 27th Annual Third-Party Logistics Study.