How Device-as-a-Service Empowers Employees and Boosts Productivity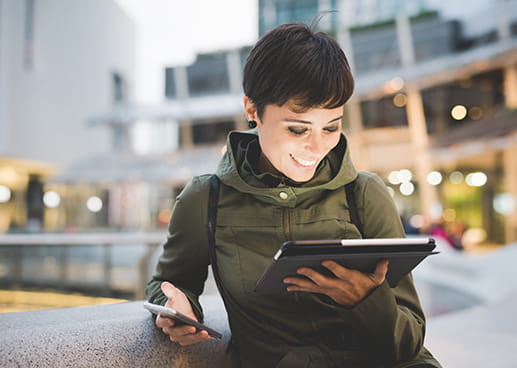 The workplace we once knew has changed dramatically in recent years, and the way companies deliver workplace technology is changing, too. When it comes to device management, a confluence of factors leads companies to adopt the Device-as-a-Service (DaaS) model to empower employees and elevate performance across the enterprise.
Powerful forces at work
One trend driving the move to DaaS is employees' heightened expectations of the technologies they use for work. As consumers, they're accustomed to the seamless simplicity of Google, Amazon, Apple and other digital experiences. And they're demanding the same level of convenience and functionality from their employers.
But optimizing the employee experience in this way isn't easy, and it got even harder with the onset of the COVID-19 pandemic. As millions of workers were suddenly required to work remotely, IT personnel struggled to equip employees with job-appropriate devices — computers and peripherals like mice and monitors; to manage onboarding/offboarding activities; provide ongoing device support. All of this while working from home themselves. The result: lost productivity, inefficient cost control, and frustrated employees, among other problems.
It's becoming clear that the workplace of the future will be an ever-fluid hybrid of remote and office-based employees. Because, as the last two years have proven, people like it that way. Recent (Feb. 2022) research from the Pew Foundation confirms that 60% of workers with jobs that can be done from home say they'd prefer to stay remote even after the pandemic is over.
With these trends in mind, companies are looking for better ways to equip employees with the devices they want and the support they need to be at their best, wherever they are. That's why, for many employers, a shift to the DaaS model makes perfect sense.
DaaS explained
For the uninitiated, DaaS is an extension of the increasingly popular business model where companies consume technology products on a pay-per-user subscription basis (as a service) instead of purchasing/owning the equipment themselves. With DaaS, an external IT partner provides a turnkey service to manage the device lifecycle from end to end. That includes helping the company plan their device needs, procure the right equipment, configure and deploy devices, provide ongoing support and analytics, manage repairs and replacements, and retire devices appropriately.
For IT departments grappling with the cat-herding chaos that device management can be, an as-a-service model offers some attractive advantages.
First and foremost, DaaS allows companies to offer a choice of devices to their employees, hence significantly improving the employee experience and encouraging retention, which is more important than ever as the Great Resignation continues. In most DaaS models, employees can select from various devices and software based on their job role and other factors. It gives them the freedom of choice while still allowing IT to maintain some control over the selection process.
Employees get the suitable devices they need for their jobs without the IT department having to touch and configure each device physically. The streamlined provisioning process enables fast delivery right to employees' doorsteps, preventing downtime for employees and enabling new hires to be productive from day one.
Moreover, the pay-per-user subscription-based model of DaaS shifts the costs from CapEx to OpEx and makes cost management more predictable and flexible. The company can scale up quickly without massive upfront expenditures or scale down without getting stuck with unused or outdated hardware. Additional cost savings opportunities come from managing the device lifecycle more effectively by timing refresh cycles and limiting service calls.
All told, DaaS has the potential to be a big win all-around. It provides convenience and productivity for employees, frees up IT resources for other projects, and creates cost savings and agility for the company.
Doing DaaS right
Like any significant technology initiative, moving to the DaaS model requires some work up front to put the right talent and capabilities in place. Below are four best practices NTT DATA recommends to ensure a successful transition.
Create a consumerized buying experience. DaaS works best when employees have the power to choose devices that meet their needs. Thus, DaaS providers should be able to deliver an online employee portal or marketplace that mimics the best retail shopping sites — intuitive navigation, product comparisons, user reviews, and personalized recommendations based on user personas. Companies with a diverse range of user groups will also want a DaaS partner that can source best-of-breed devices from multiple manufacturers.
Insist on efficient procurement and delivery. Speed — the ability to quickly get new devices into the hands of geographically disparate employees — is a key benefit of the DaaS model. So, DaaS providers must have the logistical competence to manage an inventory of devices, configure them to order, and ensure timely shipping to employees. Providers may also offer the option for employees to pick up their devices from digital lockers at nearby stores, which can be more secure and convenient than home delivery in some cases.
Take advantage of automation. To realize the full potential of DaaS, companies should focus on limiting human intervention and maximizing the use of advanced automation tools. For example, Microsoft Intune's Autopilot feature allows end-users to receive a brand-new device, log in to Microsoft 365, and automatically configure the device with their settings, applications, and security privileges. Shortcuts like this save the IT department enormous amounts of time and effort, so it's important to work with a DaaS partner who knows how to integrate these capabilities with the company's existing systems.
Control the entire lifecycle. Even though DaaS is an intentionally hands-off approach, modern device management platforms provide the visibility and analytics capabilities to stay in control. IT can track the performance of all devices through a single-pane-of-glass solution, discovering opportunities to optimize the employee experience, ensure security requirements are in check, upgrade/replace devices proactively, and dispose of decommissioned assets properly.
From push to pull
For any company considering a move to DaaS, the first step may be a simple mindset change. With traditional IT, device management was a "push" model, where the company made every decision and took every action to equip employees with hardware and software. DaaS is much more of a "pull" model, giving employees the power of choice and the tools to equip themselves with the technologies they need.
To make that change, enterprises will need a partner that understands the technical complexities of procurement and systems integration and has the organizational change management skills to drive new behaviors through the organization. While it won't be an overnight transition, the ultimate benefits of increased productivity, cost savings, and a more empowered workforce can be well worth the journey.