Multinational Financial Services Firm Migrates Data Platform to AWS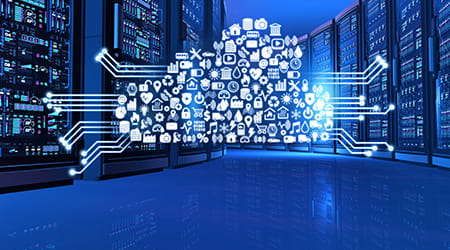 Operating around the world, this financial institution manages trillions of dollars in assets. Considering itself a technology company just as much as it is an investment firm, it's likely no surprise that the company has a strategic five-year initiative to modernize its application portfolio and the technologies supporting them. All told, the company sought to migrate thousands of applications to the cloud as part of a broader digital transformation initiative. Yet, to do so, it needed to successfully migrate the data platform that supports these business-critical applications.

As a long-term partner to this company, NTT DATA was quickly thought of as a natural ally in its modernization process. And, with the newly acquired expertise of Hashmap, an NTT DATA company, whose team has managed dozens of data migration projects, the client was eager to begin work. NTT DATA worked with two of the organization's business units to bring their data into a Snowflake data lake on AWS, helping accelerate the hydration of the data lake, achieving faster time to value and preparing the team to meet corporate goals under deadline.
Accelerating data lake hydration
The financial services firm has a five-year initiative to migrate a substantial portion of its applications to the cloud by 2024 — including the applications of two of its business units. However, foundational to the process is migrating the data associated with these applications. The organization selected AWS and Snowflake as the cloud and data platforms for the data migration, which includes several dozen legacy databases.

With the ingestion framework and architecture already built and in production, the NTT DATA team rolled up its sleeves to begin the hydration of the AWS-hosted Snowflake data lake. To accelerate the process, NTT DATA deployed a team of Hashmap consultants including resources such as data engineers, project managers, tech leads, data modelers, and business analysts. Working in close coordination with the client's head of enterprise data and day to day operators, the NTT DATA team created workflows for BI consumption and helped the client establish new analytics capabilities.

Specifically, the team used:

Amazon Simple Storage Service (Amazon S3) for external staging of source data before landing into Snowflake. Amazon S3 is an object storage service for scalability, data availability, security, and performance.

Apache Airflow, an open-source tool, for workflow orchestration. (With AWS Managed Workflows, operators can use Airflow and Python to create workflows without having to manage the underlying infrastructure for scalability, availability, and security.)

The Confluent data streaming platform based on Apache Kafka for integration.

Alation data catalog to store and manage business taxonomy and record relationships between terms and tables and columns.


Next steps

Going forward, the NTT DATA team will meet with the client's key project stakeholders in quarterly architectural review sessions to provide ongoing best practices and emerging tools and approaches to continuously improve and fortify the AWS environment.
Benefits

Working with the data and cloud experts at NTT DATA and Hashmap, this financial services firm was able to accelerate its project timeline. This, in turn, enabled the firm to speed the time to value of its data initiative, quickly hydrating its data lake in support of its broader cloud transformation initiative. In addition, the multi-national gained important insight into cloud data best practices and suggestions for ongoing strengthening of its environment. With thousands of applications moving to the cloud that depend on this data migration, ensuring success well into the future is a critical benefit.

Recognizing that traditional data center architectures can hold back the business, this financial institution has started its cloud transformation journey, aggressively pursuing a modernized data architecture as a key milestone. Working with the NTT DATA team, the client has accelerated its data lake hydration, helping it optimize its data analytics with an AWS automation platform that now provides the company with elasticity, scalability and a resilient data infrastructure.
Don't miss upcoming insights from client projects. Subscribe to the Tech Blog below.