How to Make Productivity a Priority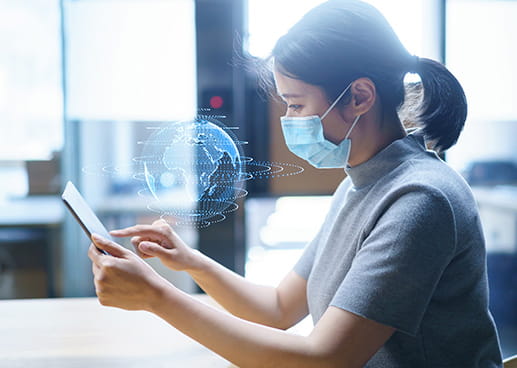 COVID-19 has changed the way businesses fundamentally operate indefinitely. To be successful, leaders must pivot to ensure employees can perform their jobs and meet evolving customer expectations. Globally, companies are encouraging employees to work from home — a trend expected to continue beyond the end of the pandemic.
In a recent study of CEOs from the 2020 FORTUNE 500 companies, 26.2% said at least 90% of their workforce would never return to their unusual workplace, and 75% of CEOs said this crisis would accelerate the pace of technological transformation. "A business cannot wait for the transformation it knows it needs."
With this data in mind, Microsoft 365 can be an integral part of your digital transformation. Microsoft 365™ can empower employees to work remotely, allowing them to be as collaborative and productive as on-premise while also maintaining control over the management and security of company devices, information, and data. In addition to the mail migrations to O365, active directory, and security, another benefit is the transition from Skype for Business to MS Teams, which opens new ways of collaborating for employees. From video conferencing to creating small project groups, including document management, file storage, and access management, a full project can be organized with these new features.
Microsoft Teams also brings capabilities to integrate with enterprise applications, such as ServiceNow, Power BI, and SAP, to provide employees with a single point of access to all the information they use in the workplace. This modern workplace encourages citizen developers across the organization to create 'mini-applications' through the forms and workflow capability found in the Microsoft Power Platform as well as provide templated based controls to make sure corporate security and privacy requirements are always met.
The NTT DATA team recently published a whitepaper on the benefits of M365, outlining that it opens the way for new work practices and new business tools, and it provides opportunities for empowering the enterprise. It allows a workforce to be more collaborative and more mobile.
Lufthansa AG worked with NTT DATA to evolve its global business with an award-winning M365 migration — resulting in improved uptime of their online email infrastructure and increased productivity through email access via the cloud. Additionally, the migration helped Lufthansa bring address books of their subsidiaries together, allowing them to work together even closer.
The team involved in the work with Lufthansa recently hosted a webinar 'Reinforce Remote Work: Top Tips from Lufthansa's O365 Migration' to discuss the details. The webinar covers how to:
Define a proof-of-concept and pilot project for a large-scale migration program
Keep employees well-informed throughout the process
Create a detailed assessment of current on-premises infrastructure and Office 365 tenant readiness state
Adopt Microsoft and industry best practices throughout a migration project
Achieve massive volume migrations per week and keep the error count to a minimum
Ensure support teams are part of the enablement program
When asked about working with NTT DATA on the project, Ronald Schultz, Senior Vice President, and Chief Information Officer, Lufthansa Group said "NTT DATA has been instrumental in the transition of our Exchange mailboxes to our global tenant; they have been fully engaged from the outset, taking ownership for the architectural design and defining the migration approach. NTT DATA overlaid their migration activities with meticulous planning, strong governance, and systems integration to ensure a successful global project for both Lufthansa Group and NTT DATA."