More Lessons From the Pandemic's Front Lines: Fast-Forwarding Tech Adoption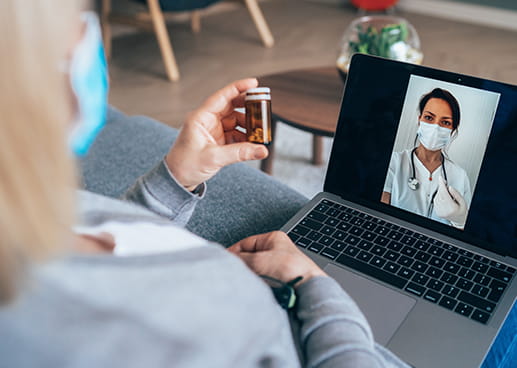 Part 2 of 3
There is no doubt the coronavirus crisis has accelerated the adoption of digital technologies in healthcare, which typically has lagged behind other industries in digital transformation. Many tools such as telehealth, AI and mobile applications have leapfrogged ahead in recent weeks as providers and patients have embraced new models of care. As a continuation of this series of Lessons Learned From The Pandemic, below are five surprising (and not-so-surprising), ways technology is being used as a weapon in the fight against COVID-19.
● The embracing of telehealth — it's here to stay: According to analysts, telehealth visits surged in March, and total interactions could top 1 billion before the end of 2020. Some providers experienced 5,000% growth in just a few weeks! NTT DATA has been working with InTouch Health for some time, but telehealth was a nice-to-have capability for providers and health plans. In a world of social distancing and home quarantine, it has become a necessity. Telehealth is one of the safest technologies to help flatten the curve of the pandemic and was cited as one of the essential services in the World Health Organization's (WHO) report on combating COVID-19. The new U.S. government policy expanding Medicare to include telehealth services is a strong indication that this technology will be an essential part of post-COVID life.
● Keeping web and mobile apps front and center: Health IT vendors have supplemented their existing electronic health record (EHR) mobile and web applications with additional tools to deal with the COVID-19 emergency. These additions have enabled health organizations to screen patients virtually through e-visits and share secure and relevant information across their networks. Web and mobile apps also allow patients to answer questions related to symptoms and exposure and provide recommendations inline with Central Disease Control (CDC) guidance. This type of triage has helped hospitals broaden their response, especially in underserved communities, while enabling them to begin early treatment for patients who test positive. This unprecedented access has also helped those with mild symptoms; providing guidance on how to monitor their health at home and when to contact a healthcare provider.
● The use of robots and chatbots to go where caregivers can't: To enable contactless care, hospitals are using robots to disinfect areas using ultraviolet light, provide hand sanitizers, and check patient vital signs. Several healthcare organizations, including Northwell Health, UCSF Health and UNC Health Alliance are using chatbot technology to provide information, supplement call center patient outreach, push out coronavirus test results in near real-time, and check on quarantined patients. WHO is also using interactive chatbot technology to provide accurate and reliable information to more than 1 billion people in several local languages. The future holds promise for these care extenders.
● Engaging drones as healthcare soldiers: Countries like Spain have used drones to monitor people during a lockdown, while South Korea and India deployed them to help disinfect epidemic hotspot areas. Antwork, a subsidiary of Japanese industrial drone maker Terra Drone, flew medical samples and quarantine materials into China's Xinchang region in February during the height of the crisis there.
● The proactive implementation of AI and data analytics: Data scientists across the globe are actively seeking ways for AI to help issue early alerts, predict infection patterns, track the spread, and provide faster diagnosis and prognosis of the disease. An AI model can also predict patterns for hospital resources, such as bed and ventilator availability and drug supplies. Dashboards populated with patient demographic information and tracking/forecasting data are allowing government and healthcare organizations to redirect resources to the most vulnerable areas.

These are just a few of the great examples we see play out as the pandemic evolves. While these seemingly overnight advancements will be fine-tuned, it's clear that care delivery and coordination will be vastly improved in the post-COVID world.
Learn how NTT DATA and Enli are delivering a patient management program that helps healthcare organizations record, manage, and monitor patients at risk for, or who have already contracted, COVID-19.

Visit our latest COVID-19 resources.
Read Part One of this series: Essential Lessons From the Pandemic's Front Lines: Being Human.
Read Part Three of this series: More Lessons From the Pandemic's Front Lines: The Power of Communication
Read all our blog posts related to COVID-19.