Essential Lessons From the Pandemic's Front Lines: Being Human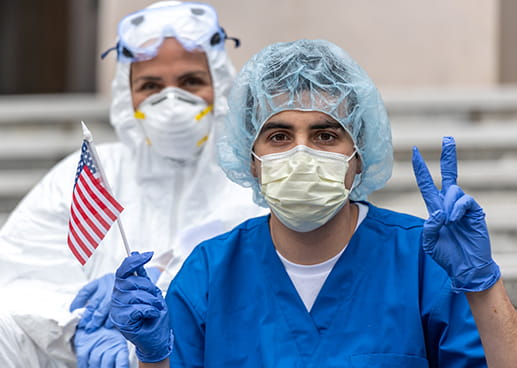 Part 1 of 3
Necessity is the mother of invention, and the healthcare sector is proving that axiom daily. Hospitals, health plans and researchers are responding to the COVID-19 pandemic with creative and innovative solutions: workarounds to address staffing and supply shortages, ramping up telehealth services and using AI and predictive analytics to track, screen and treat COVID-positive patients. But it's not all about technology, testing or clinical trials. It's also about cooperation and human connection, as former competitors and public/private partnerships come together to defeat a common enemy.
Over the next few days, we'll pause to outline lessons learned from our own experience working with healthcare clients as well as those we've been privileged to witness over these past weeks. But let's start with the fundamentals. We are, after all, human — and it's our humanity that will see us through this.
Every day, I hear at least one client story that moves me to tears. Remembering our humanity may be the best lesson of all, and fortunately, there are many great examples of people and organizations doing the right things.
● Choose empathy first: Financial concerns can prevent people from seeking care or volunteering their talents where needed. Health insurers have stepped in, waiving copayments and other cost-sharing for members needing treatment for the novel coronavirus. One health plan, Centene, created a medical reserve leave program to enable its licensed healthcare professionals to volunteer their services on the front line while still receiving their full-time pay and benefits for up to three months.
● Think global, act local: Even as every situation and country is unique, we've learned valuable lessons from our global counterparts who have already lived through the situation, including worst-hit countries such as China and Italy. In a post-COVID-19 world, we are likely to see more cross-border teamwork.
● Share medical advances to improve care: We're in this together, and nobody realizes this more than the scientists. As global conglomerates and big and small research organizations came together to share invaluable medical and scientific information, we learned that everyone is in the business of saving lives.
● Collaborate vs. compete: California hospitals sending ventilators to New York, hospitals agreeing to share scarce supplies and staff — it's not always easy to do, but we see the benefits when providers and government entities work together rather than in siloes. And through the COVID-19 Healthcare Coalition, health systems, academia, startups, and technology companies are bringing their brightest minds together to work cooperatively with government agencies.
● Pitch in where needed: We've seen some ingenious ideas from unlikely sources: 3D-printed face shields from automobile manufacturers, masks, and other PPE produced by fashion designers, and grassroots distribution channels to get supplies where they are needed most. Retired and even furloughed medical professionals are finding new ways to use their skills and expertise in the battle against COVID-19. I'll share a great example from NYU Langone Health later in this series.
Right now, it doesn't matter what your routine responsibilities are. If you are in healthcare, you are quite likely wearing a different hat, doing things you might never have imagined. On top of that, your home routine and social life are upended. But we are all in the same boat. Continue to lead with empathy as we navigate these uncharted waters. Be kind to yourself and those around you. We can and will do great things. We are truly stronger together.
Please visit our most recent COVID-19 resources.
Read Part Two of the series: More Lessons From the Pandemic's Front Lines: Fast-Forwarding Tech Adoption
Read Part Three of the series: More Lessons From the Pandemic's Front Lines: The Power of Communication
Read all our blog posts related to COVID-19.